"F***ing Wonderful. Way to Go, Bell" – Who Said What on the Radio in the NASCAR Cup Series Bristol Dirt Race
Published 03/31/2021, 11:15 AM EDT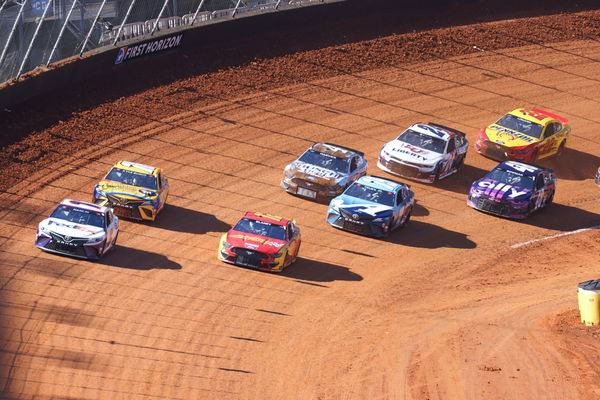 ---
---
The NASCAR Cup Series Food City Dirt Race at Bristol was quite certainly the most eventful race of the 2021 season so far. It was expected to be so, with none of the drivers knowing what to expect in the first Cup race on dirt in 51 years.
ADVERTISEMENT
Article continues below this ad
There were quite a few cautions brought about by quite a few wrecks and crashes, as dirt and dust wreaked havoc on the dirt track. Drivers did not shy away from expressing their emotions on their team radios.
Kyle Busch, who found his way to the front very early in the race, also lost all his momentum rather quickly. His engine began to heat up more than normal and Busch was forced to pit early and work on the issues.
ADVERTISEMENT
Article continues below this ad
The first of the 'big ones' on the day came early in Stage 1, triggered by Aric Almirola's spin. The crash also collected Shane Golobic, Corey LaJoie, and Anthony Afredo, and all four drivers were knocked out of the race.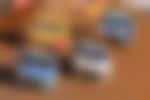 The first 'Big One' in the NASCAR Cup Series Bristol Dirt race
Almirola was not happy with Stewart Friesen in the #77 car, who first made contact with him. "Dammit. The #77 turned down on me and just wrecked us," he said to his team.
One of the frontrunners, Martin Truex Jr. barely survived that wreck and was thankful to still be in contention. "Holy cr*p, that was close," he said over the radio.
In another nervy moment, Ryan Newman spun and while Kevin Harvick tried to avoid him, he made contact with teammate Chase Briscoe and almost slammed into hard into the wall.
Newman's original contact was with William Byron in the no. 24 car, and he felt it could have been avoided. "Yeah, I know in the end I didn't leave enough room, but I'm pretty sure I left him enough room," he explained.
Favorites Kyle Larson, Christopher Bell wrecked in a big crash
One of the biggest turning points in the race came very soon. Kyle Larson and Christopher Bell, the two favorites to win the race, suffered heavy damage in a crash involving Ross Chastain.
Crew chief Cliff Daniels checked up on Larson to see if he was okay. While Larson was luckily safe, he was miffed with Bell. "F***ing wonderful. Way to go, Bell. Way to go," Larson quipped.
The wreck ended the day for both Bell and Chastain. Larson continued, but his car needed a lot of work.
Martin Truex Jr, who won the Truck race earlier, won the opening stage in the Cup race as well. Daniel Suarez, who had his best race so far in the no. 99 car, was gradually catching up, and Truex's team warned him about Suarez.
"There's a method to my madness," Truex Jr. answered, assuring his team.
Joey Logano wins in a thrilling overtime finish
The big 'parking lot' wreck happened soon after. Ryan Blaney, Kyle Busch, Kyle Larson, and Alex Bowman were among those caught up in the big crash. The visibility was a huge issue and the drivers could not find a way around it.
"I've been in some sandstorms in Arizona that I could see better than that," Bowman said.
ADVERTISEMENT
Article continues below this ad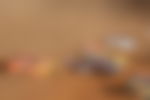 Joey Logano won the second stage and the battle for the lead was soon between him and Denny Hamlin. A late caution brought out a late restart. However, Logano held his nerve to win the historic race. Meanwhile, Ricky Stenhouse Jr. edged Hamlin for second.
The Cup Series field now moves to Martinsville Speedway for a night race, after a break this weekend.
ADVERTISEMENT
Article continues below this ad