"F**king Right Rear Is a Pogo Stick" – Who Said What on the Radio in the Martinsville NASCAR Cup Series 2021 Race
Published 04/13/2021, 9:00 AM EDT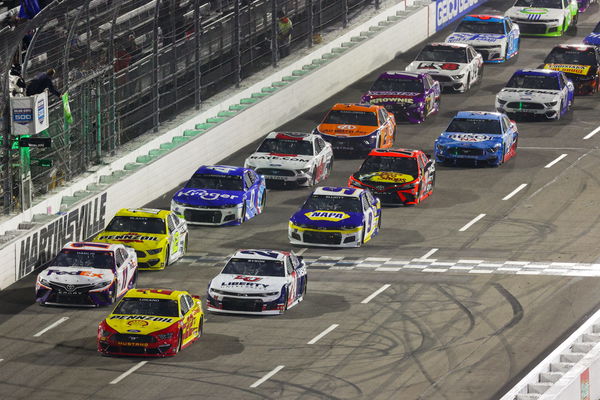 ---
---
In a stop-and-start racing weekend due to rain, the NASCAR Cup Series drivers raced in two installments at Martinsville Speedway, one of the most anticipated tracks on the schedule. After a week's break due to Easter, the field was pumped to get back to racing and improving their seasons with a strong run.
ADVERTISEMENT
Article continues below this ad
The race got underway under tricky wet conditions on Saturday night. Short-track racing with rain around was always expected to bring some thrilling moments, and the race had quite a few of those.
Cody Ware in the No. 51 and James Davison in the No. 15 seemed to be at loggerheads on more than one occasion during the race. In the first stage itself, Ware warned Davison.
ADVERTISEMENT
Article continues below this ad
"Tell the #15 if he holds me up and I see him in my rearview again, he's going fire-wall deep," Ware said on his team radio.
They got together again and Ware caught Davison from the back, spinning him. Davison's spotter told him that Ware meant to do so, and the driver shot back with some words of his own.
"What the hell, man? How ridiculous for one of his father's cars," Davison quipped.
Bubba Wallace and Denny Hamlin tangle in NASCAR Cup Series Martinsville race
Soon, the rain gods intervened, and the race had to be pushed to Sunday evening. The next day saw much better conditions and things got underway again. Ryan Blaney looked like a man on a mission right away, winning the first stage.
Early in Stage 2, Bubba Wallace and Kevin Harvick seemed to tangle, and both teams seemed to be pretty miffed. "23 has been dive-bombing everybody," said Tim Fedewa, Harvick's spotter.
Harvick and Bubba soon made contact, sending Bubba in the no. 23 car a bit off control. "That guy is a **** ****," said an angry Wallace over the radio.
The end of the stage saw another battle for the stage win between Blaney and Denny Hamlin. They came close to making contact and Hamlin was up for the challenge.
"Fu**ing crowding me. He's going to get a left rear cut," he said. "He crowds you, take care of it," crew chief Chris Gabehart told him. However, Blaney soon crossed the finish line in a side-by-side finish to sweep another stage.
Kyle Busch was not a happy man at Martinsville
As the final stage took off, Kyle Busch's problems continued. Busch does not shy away from speaking his mind and after spinning midway through the stage, he compared his car to a pogo stick.
"I don't know. It just goes down in the corner and it feels like f***ing the right rear is a pogo stick," Busch told his team.
As the race progressed, the cautions and wrecks kept going up. Erik Jones spun after contact with Brad Keselowski. "F***ing ridiculous, whatever happened. Amateur hour out here, man," Jones said. Keselowski, who was unhappy with Ross Chastain for the initial contact, gave him a piece of his mind as he drove by.
William Byron then hit Daniel Suarez from behind, who was not happy one bit. "Tell the f****ng 24 that I'm going to get him back," Suarez shot back.
The parking lot crash wreaks havoc in the NASCAR race
The biggest crash of the race came soon after, started by contact between Chris Buescher and Kyle Busch. "Did he just f***ing chop back down across me and like spin me out? What the f**k," said an angry Kyle.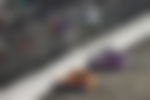 That crash collected more than a dozen cars, including Alex Bowman, Keselowski, Suarez, and Jones. An angry Suarez got out of his flaming car and later threw a water bottle at Byron, who was passing by.
ADVERTISEMENT
Article continues below this ad
A few more cautions and restarts later, Martin Truex Jr. made his move with a few laps to go, beating Hamlin for the win. "Never f***ing give up. That's what our team does," said an ecstatic crew chief, James Small.
Truex Jr. became the first driver to win his second race this season. This might come as a big sigh of relief for many drivers who are yet to win, with the playoff battle in mind and seven drivers already locked in.
ADVERTISEMENT
Article continues below this ad
MORE – WATCH: Kyle Busch, Brad Keselowski, Daniel Suarez in Massive Multi-Car Crash in Martinsville NASCAR Cup Series Race