Frankie Muniz's Hilarious "You All Just Know Me as a NASCAR Driver" Update Leaves Racing Fandom Reminiscing His On-Screen Brilliance
Published 03/15/2023, 6:40 AM EDT

Follow Us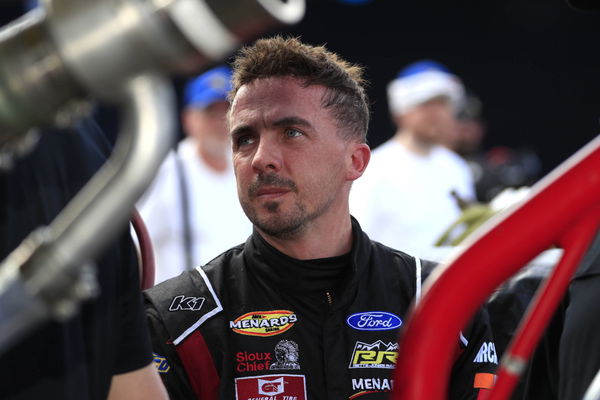 Frankie Muniz is quickly becoming one of the most adored stars in the NASCAR fraternity, with many fans taking a deep interest in his racing endeavors. The two-time Golden Globe Award nominee arguably rose to fame after his successful acting stint on Fox's 'Malcolm in the Middle' as a child actor. Moreover, he also featured in a number of successful movies including 'Agent Cody Banks' and 'Racing Stripes' among others. After kicking off his stock car journey in 2021, Muniz will be driving the whole 2023 season with Rette Jones Racing in the ARCA Menards Series. Recently, the renowned Hollywood star's hilarious update about predominantly being a "NASCAR driver" left racing fans reminiscing about his brilliant performances on the screen.
Frankie Muniz impressed fans on his debut with an 11th-place finish during the 80-lap race in Daytona a few weeks ago. However, his first race turned out to be a roller coaster ride as he made it up to the top three before falling back to the 24th spot after getting turned. However, luckily for Muniz, he ended up making his way back to 11th place in the last two laps. Now, Muniz's recent sarcastic update on Twitter about his racing antics has left the fans acknowledging his commendable on-screen projects.
Fans recall Frankie Muniz's acting brilliance
ADVERTISEMENT
Article continues below this ad
The caption of a recent tweet by Frankie Muniz read, "I know this may be hard to believe because you all just know me as a NASCAR driver, but a long time ago before most of my competitors were born, I used to save the world. I did it twice. No biggie. It was actually 20 years ago today that Agent Cody Banks first premiered."
The 37-year-old took a trip down memory lane as he revealed that his 2003 movie 'Agent Cody Banks' was released nearly two decades ago. However, Muniz broke the news by joking about being known as a NASCAR driver primarily, triggering some heartwarming responses from the fans.
One of the enthused fans wrote, "My first thought was 'is that Malcolm at Daytona?'"
My first thought was "is that Malcolm at Daytona?"

— jd (@joed7) March 15, 2023
Another fan wrote, "Can we get this man an Agent Cody Banks theme?" Here are some other reactions from the fans.
I still can't believe your a nascar driver. I just remember you saving the world and giving Louis heart attacks 😂

— Peter James ◢ ◤ (@peterjames_au) March 15, 2023
A classic. Fuck I'm old for saying that.

— Kyle_Sev (@Kyle_Sev) March 14, 2023
Excuse me Agent Cody Banks is a NASCAR driver now?

— TomAkl #COYS (@TomAkl28) March 15, 2023
ADVERTISEMENT
Article continues below this ad
Still watch Malcolm in the Middle every now and then for nostalgic purposes. 🍻

— T FUNNY (@TLL09) March 15, 2023
Many fans looked back into the past and shared their stories about what Frankie Muniz's movies meant to them. Some of the fans also showed a sense of shock after finding out Muniz turned into a 'NASCAR driver' 20 years later.
ADVERTISEMENT
Article continues below this ad
WATCH THIS STORY: Dale Earnhardt Jr Leads Outraged NASCAR Reactions at Latest LA Coliseum News
What do you think about Frankie Muniz's acting skills? Let us know in the comments below!
Edited By: Ranvijay Singh