Funniest Advertisements featuring Jeff Gordon, Dale Jr, Kevin Harvick and Others
Published 04/30/2020, 1:02 PM EDT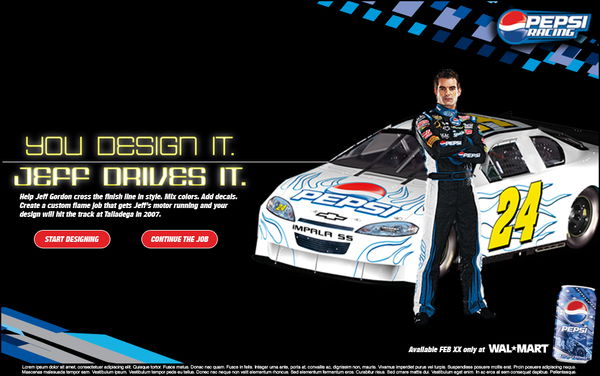 2000s was a totally different time for NASCAR and its drivers. Sponsorships were coming from everywhere and top drivers like Jeff Gordon, Kevin Harvick, and Dale Jr were hailed as heroes. One of the major highlights of the early 2000s was the involvement of drivers in sponsor advertisements.
ADVERTISEMENT
Article continues below this ad
Recently, A Twitter user 'nascarman' posted a thread of advertisements from the early 2000s featuring all of our favorite drivers. Along with the ads, he posted "I guess the whole point of this was to show the cool commercials in that era. There weren't generic ads shown during races, they were specific to NASCAR made by brands who fully embraced their partnerships with teams."
Here are a few funny advertisements featuring top drivers like Gordon, Kenseth, and Dale Jr. Check out the full Twitter thread to watch all the videos.
ADVERTISEMENT
Article continues below this ad
In 2004, NASCAR drivers were in tons of commercials. Sponsors not only supported the race teams, but used the drivers and teams as major parts of their advertising campaigns.

<This is a mega-thread of great commercials from that year featuring NASCAR.> pic.twitter.com/LdvZZs2f6k

— nascarman (@nascarman_rr) April 29, 2020
Dale Jr in Budweiser's Superbowl Commercial
in the early 2000s, Dale Jr was staring in a Super Bowl Commercial by beer brand Budweiser. In the commercial he droves around the country to deliver a lipstick to the wrong women. He also featured in commercials of 'Enterprise car rental' and 'KFC'
ADVERTISEMENT
Article continues below this ad
Jeff Gordon, Matt Kenseth and Dale Jr in Nextel Advertisement
Nextel's famous Superbowl commercial for their 'walky-talkies' had NASCAR drivers doing some crazy stuff. Some other commercials featured "Dale Jr running over NFL defenses with his car, Jeff Gordon singing to Deep Purple and Matt Kenseth as a robot". Additionally, Nextel also made a commercial featuring NASCAR legend Richard Petty.
ADVERTISEMENT
Article continues below this ad
Over time NASCAR is losing its ability to attract crowds and sponsors. However, the top drivers of the 2000s still remain equally popular among the fans. Recently, NASCAR topped the TV viewership chart after a long time in the Esports category. And the credit goes to whoever came with the idea of introducing retired champions in the Pro Invitation Series.