"Getting Dumped by Larson": Chase Elliott Slammed in Celebratory Post as "Overrated" Hendrick Motorsports Star Gets Snubbed by NASCAR Fans
Published 12/28/2022, 4:59 AM EST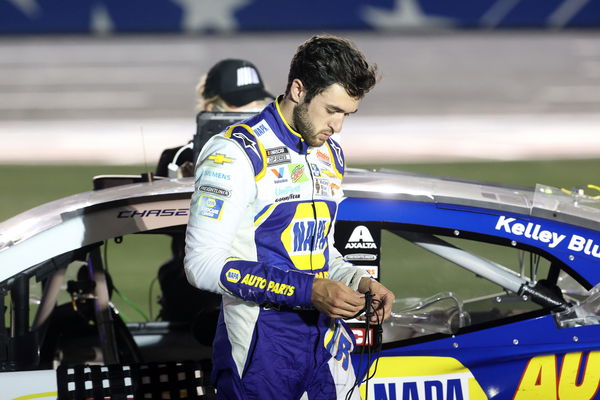 Everyone utilizes the off-season as per their needs. Teams focus on devising new and effective strategies. NASCAR uses the time to think of ways to make the next season run better. While drivers like Chase Elliott and Ross Chastain use it to recharge and come back for a fresh start. But for fans—it's a desperate wait for action.
Some will spend their time looking back at what was a thrilling season, with its highs and lows. From one way to the other, the pendulum kept swinging around until the Championship 4 race in Phoenix when it finally settled at Joey Logano's spot.
For fans of the Team Penske driver, it was great news. But that left a number of other fans distraught, and the biggest chunk of those fans was from Chase Elliott's camp.
ADVERTISEMENT
Article continues below this ad
Watch This Story: "Screamed When I Open the Group Chat" – Chase Elliott, Dale Jr & Others Thrilled as NASCAR Star Announces Blissful News
A recap of Chase Elliott's season
Elliott was coined to be the biggest contender for the season—an out-and-out favorite. At the start of the season, he was touted as the most complete driver with the best team to back him up. He came true on that, winning the Regular Season Championship.
But in the playoffs, the Hendrick Motorsports driver saw a dip in form that ended up costing him his second Cup Series title. Apart from a 2nd-place finish in Bristol and the win in Talladega, it was mostly poor results for him. He did manage to get through to the final race, his 3rd successive, but that lack of form showed. In the end, the incident with Ross Chastain put him out of contention for the title.
For a young driver, these are still great results. But for one with his ability, it must have been disappointing.
Fans aren't too impressed by the 'feat'
NASCAR's social media team looked back at the 2022 season and posted a picture of Elliott's 3rd consecutive entry in Phoenix on Instagram and Twitter. They asked fans to share their favorite Chase Elliott moment of the season.
 

View this post on Instagram

 
ADVERTISEMENT
Article continues below this ad
Fans, however, were not too impressed. On Instagram, most comments were a bit on the sadistic side. One fan recalled that his favorite moment was "Kevin Harvick sending him into the wall," while another said, "Everytime he spun or wrecked this season was awesome." Another took comfort in seeing Elliot in pain as they said, "Him crying" was their favorite moment.
Others were quite similar in sentiment and said: "larson wrecking him twice" and "when reddick dumped him at the roval" were their favorite moments. Some recalled the Phoenix race and said that the best moment was: "When he got chastain-ed at phoenix" and "Larson puttin him in the wall and Chastain movin him out of the way at Phoenix."
ADVERTISEMENT
Article continues below this ad
A fan recalled the race at Watkins Glen and said, "Getting dumped by Larson at Watkins Glen right in front of our seats in turn one. Larson was too afraid to celebrate with a burnout after booting the golden child lol." Another chose to not get involved in the mudslinging and kept it reserved: "none 🙂 he's overrated."
Elliott might not enjoy looking back at his season or these comments. But he'll want to correct all of that in 2023.
Edited By: Nischal Kandpal