"Gives Me Some Chills" – Brad Keselowski on His Incredible Feat of 11 Straight NASCAR Seasons With a Win
Published 04/27/2021, 10:15 AM EDT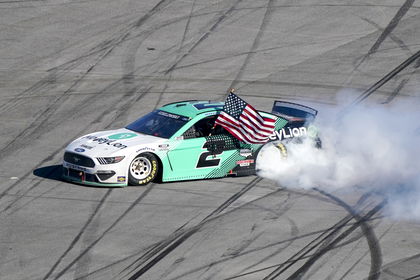 ---
---
Brad Keselowski earned his sixth Talladega win on Sunday, joining the likes of Dale Earnhardt Jr. and Jeff Gordon for second-most wins at the track. However, that was not the only major NASCAR club that Keselowski joined with that win.
ADVERTISEMENT
Article continues below this ad
Sunday's win, the 35th of his Cup Series career, also marks an 11th consecutive NASCAR season with at least one win for Keselowski. That says a lot about his longevity at the top of the pile, and Keselowski joined some legends in the 'most consecutive seasons with a win' list and is now chasing some others.
Record or not, winning in so many consecutive seasons is a big deal and Keselowski was over the moon after the achievement, to say the least.
ADVERTISEMENT
Article continues below this ad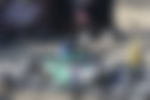 "I'd be lying if I didn't tell you I was thinking about that. It's very special to me. Kind of gives me some chills," Keselowski said in a media interaction after the race.
Brad Keselowski never imagined himself racing in Cup series
The Team Penske superstar started his career as a Truck Series driver for his family-owned team. Keselowski admitted that he just dreamt of racing Trucks for his team at the initial stage of his career. Where he is now is something he never imagined.
"I never envisioned winning at the Cup level, let alone even being at the Cup level," he said further. The winning streak thus comes as a very special feeling for the 2012 Cup Series champion.
"Have 11 straight winning seasons, that's pretty cool, too. Is it Tony Stewart or Ricky Rudd that has the record? I'm sure I'm a long way behind those guys. Hopefully, we can catch up," Keselowski expressed.
Which NASCAR greats are ahead of Keselowski in the all-time record?
The record is actually held by seven-time champ Richard Petty, who has 18 straight seasons with at least one win. Keselowski is now level with Kevin Harvick and Dale Jarrett on the list.
The next task for Keselowski is chasing Denny Hamlin's 12 consecutive seasons with a win once he begins the 2022 season.
ADVERTISEMENT
Article continues below this ad
There are some other very big names as we go further up the list, including the likes of Dale Earnhardt, Jeff Gordon, Tony Stewart, and others.
Jimmie Johnson has 16 straight seasons with a NASCAR win, and Kyle Busch sits joint third on the list with 16. Busch now has a great chance to tie David Pearson for 17 wins and the 2023 season could see him break Petty's record if he keeps winning.
Keselowski still has a long way to go to earn the all-time record. But there is no reason why the 37-year-old cannot stick around for some more years and go all the way.
ADVERTISEMENT
Article continues below this ad