Grant Enfinger Goes for a Spin and Loses His Lead on the Restart in Eventful Truck Series Race
Published 08/08/2020, 12:18 PM EDT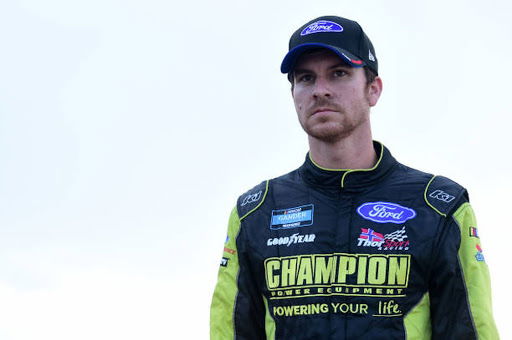 Grant Enfinger looked in great form during the NASCAR Gander RV & Outdoors Truck Series race at the Michigan International Speedway, on Friday.
Enfinger was dominant for most of the race and led for 38 of the 107 laps. He was then involved in a nasty collision on the restart that put a big dent to his chances of securing his third win of the season. Grant Enfinger was defending his lead on the restart before the incident took place.
Grant Enfinger goes for a spin on the restart
ADVERTISEMENT
Article continues below this ad
On the restart, Enfinger was on the outside with NASCAR Cup Series rookie John Hunter Nemechek on the inside.
Austin Hill, who won a couple of weeks ago in Kansas, was also very close to them. Just after the restart, Enfinger hit Hill in the No. 16 car, before then colliding with Nemechek in the No. 13.
Enfinger, driving the No. 98, went for a spin himself and lost his lead, as a result. Along with Enfinger, the incident affected Nemechek too, more than it did to Hill.
NASCAR Gander Trucks tweeted a video of the incident.
"SO. MUCH. HAPPENED. @GrantEnfinger got spun while defending the lead on the restart!" they wrote on Twitter.
https://platform.twitter.com/widgets.js
Eventful race for Enfinger
Earlier, in another incident involving Enfinger, Johnny Sauter spun and hit the wall while racing Enfinger for the lead.
With 16 laps to go, Sauter was racing Effinger with an aim to grab the lead during the green flag laps in the race.
Just then, Sauter's No. 13 ThorSport Racing Ford got loose, crashed with Enfinger, went for a spin, and hit the wall.
A caution came out after the incident. The race saw a record 11 caution periods being called.
Grant Enfinger finished in 33rd place in the race, after coming so close to another win.
ADVERTISEMENT
Article continues below this ad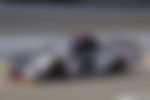 Enfinger came into the race on the back of two third-place finishes during the doubleheader weekend in the NASCAR Truck Series at Kansas Speedway, a couple of weeks ago.
The 35-year-old lies 8th in the overall points standings for the Gander RV & Outdoors Truck Series.
ADVERTISEMENT
Article continues below this ad
He has two wins and four top-five finishes so far.
Source – Twitter: NASCAR Gander Trucks, NASCAR,com