"Hate That I Screwed That Up" – Kyle Larson Frustrated Over Missing Out on Kansas NASCAR Win After Dominating
Published 05/03/2021, 11:45 AM EDT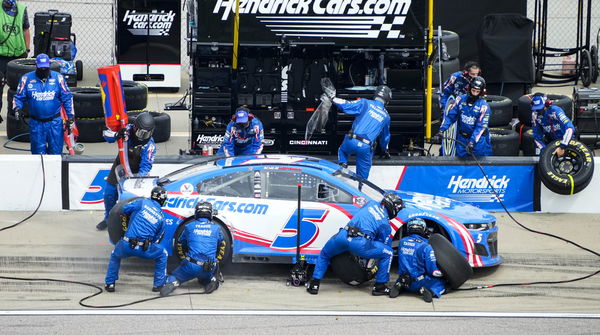 ---
---
Kyle Larson wished for a repeat of the Las Vegas race as he went into Sunday's NASCAR Cup Series race at Kansas Speedway. However, his Kansas race had shades of the Atlanta race, where he dominated for most of the race before a poor finish in the final few laps cost him.
ADVERTISEMENT
Article continues below this ad
Larson was expected to bring another superb car at the 1.5-mile track in Kansas City, and he did. Larson has been the leader on such tracks all season. His performance in the first two stages at Kansas suggested that he would once again go on to win.
He once again led the most laps on the day, 132 on Sunday, but could not win. Larson was the favorite to win right up to the final restart with two laps to go. On the restart, Larson lined up on the outside on the second row.
ADVERTISEMENT
Article continues below this ad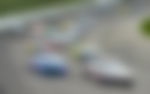 Kyle Larson explains where he lost the NASCAR race at Kansas
As he tried to catch Ryan Blaney and race leader Kyle Busch, Larson made contact with Blaney. Larson turned him and went into the wall himself on Turn 2.
He was quite frustrated with himself after losing out on the win. Larson explained what he was trying to do on the final restart.
"Just lining up behind Blaney, and my plan was just to push him as hard as I could. And try and be with him on the backstretch to shove him and hopefully get them guys racing in front of me or potentially get inside or outside for the lead somehow.
I had just planned on pushing him really hard. And obviously, I did that, and got him sideways and ended up getting us both in the wall," Larson said in his post-race interaction.
Larson looks back on what could have been
He went on to say that he should have laid off on the corner and waited for a run where he could get on Blaney's back bumper on the backstretch as he tried to grab the lead.
"Hate that I screwed that up and cost ourselves a good finish," Larson expressed.
ADVERTISEMENT
Article continues below this ad
Larson was the clear favorite to win with just 10 laps remaining in the race. However, he lost his momentum with multiple cautions and restarts soon after. It was at a similar stage of the race that he lost the lead at Atlanta.
Larson has already shown a lot of promise in 2021. He has been a frontrunner more often than not, next to Denny Hamlin. The Hendrick Motorsports star will now go back and work on those mistakes as he aims for more wins before the playoffs.
ADVERTISEMENT
Article continues below this ad