Hendrick Motorsports' Chase Elliott Announcement Serves as a Setback for NASCAR Fans Backing "Stud" Corey LaJoie to Get the Emergency Gig
Published 03/08/2023, 6:39 AM EST

Follow Us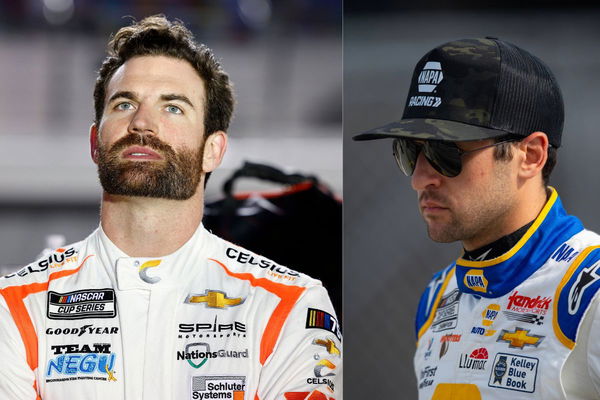 Hendrick Motorsports found themselves in a bit of a pickle last week after Chase Elliott was ruled out following a fractured tibia, leaving the #9 Chevy without a driver. Josh Berry replaced the 27-year-old in Las Vegas. However, he finished 29th without any points on a day when the other three Hendrick drivers finished in the top three. Following a difficult outing, there were some doubts about Berry continuing to drive Chase Elliott's car in his absence, prompting many experts and fans to take consider Corey LaJoie as a possible option. Hendrick Motorsports have finally made their decision about who will be driving in place of Elliott until he recovers completely from his recent surgery.
The 2020 Cup Series champ is likely to be sidelined for six weeks. However, Rick Hendrick and his team made a huge bet with their recent move. This served as a huge blow for NASCAR fans who backed the 'Stud' to get the emergency replacement gig at one of the biggest teams in the sport.
Hendrick Motorsports names Chase Elliott's replacement
ADVERTISEMENT
Article continues below this ad
As per NASCAR.com, Hendrick Motorsports have shown trust in Josh Berry by giving him the responsibility to fill in for Chase Elliott this week in Phoenix. Moreover, the 32-year-old will also be Elliott's replacement for all oval races he will miss until his return. Additionally, experienced sports car driver Jordan Taylor will drive the #9 Chevy at the Circuit of The Americas.
This update has come as a huge setback for fans who desired Corey LaJoie to be announced as Chase Elliott's replacement.
The chatter among NASCAR fans was triggered after Fox's NASCAR commentator Mike Joy posted a question on Twitter if Team Hendrick should borrow Corey Lajoie from Spire Motorsports.
Fans want Corey Lajoie to be Elliott's replacement
The interesting suggestion from Mike Joy led fans to come in support of Lajoie, with some envisioning a scenario of him clinching a victory. One of the fans wrote, "Corey is a stud and he's proven it in the 7 this year, If he races in the #9 he will run top ten majority of the races and might even win a race."
Corey is a stud and he's proven it in the 7 this year, If he races in the #9 he will run top ten majority of the races and might even win a race

— Adam Maxwell (@AdamMax40936280) March 7, 2023
A few NASCAR fans were on board with the idea, as they believed Corey LaJoie had earned the opportunity and deserved it.
One of them even touched on the 31-year-old's displays on the tarmac.
I love this idea. Corey's earned it over and over again with what he's done in rides that should run 25+ on paper and he's often running around the top 20, or better.

— Mike Barbone (@Barbone191T) March 7, 2023
I remember Mike!!!
That really would be great for Corey, he truly deserves it!!!

— Brad (@bradford92837) March 7, 2023
Agree 1000% LaJoie should be in that car not Berry. What a shame

— David Rogers (@69David19) March 7, 2023
Another fan ensured that there was no room for Twitter users to take his comment and liken it to him probably having something against Josh Berry.
I think if they could pull it off it would a WONDERFUL opportunity for Corey! Nothing against Josh Berry, love him, but a great opportunity for Corey!

— bgriff388 (@bgriff388) March 7, 2023
One user had an interesting question about who would replace the replacement driver at his original team. It will not be a factor anymore after Hendrick Motorsports' decision.
I would ❤️ to see @CoreyLaJoie in the #9. He would be great! But, what happens to the #7? How would it work?

— KENSETH_FAN_HOF_2023 (@FanKenseth) March 7, 2023
ADVERTISEMENT
Article continues below this ad
Father and son both subbing at Hendrick is kind of cool. Randy in the 50 and now Corey in the 9.

— Preston Looper (@PrestonLooper) March 7, 2023
ADVERTISEMENT
Article continues below this ad
Unfortunately, the NASCAR fandom supporting Lajoie was let down after Hendrick Motorsports decided to stick with Berry. However, considering Corey Lajoie's full-time commitment with Spire, it would certainly have been a tough move to pull off for Rick Hendrick.
WATCH THIS STORY: Perennial Fan-Favorites Dale Earnhardt Jr and Chase Elliott Have This NASCAR Legend to Thank for Their Superstardom
Edited By: Ranvijay Singh