Hendrick Motorsports Duo Kyle Larson and William Byron Have Contrasting Opinions About Their Coca-Cola 600
Published 05/31/2022, 11:35 AM EDT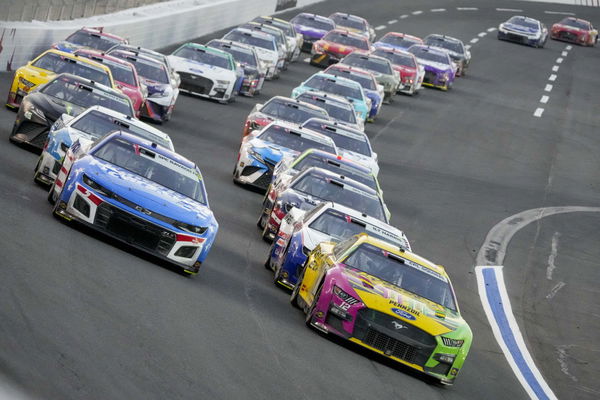 At the Charlotte Motor Speedway, only half of the Hendrick Motorsports drivers finished the race. The survivors were Kyle Larson and Alex Bowman in 9th and 10th respectively. Meanwhile, both Chase Elliott and William Byron crashed out, so the outfit had contrasting fortunes. Recently, Larson and Byron spoke about how their races played out and both told completely different stories.
Larson said, "It [the race] was much better. I thought the lack of resin on the track was really good. We can move around some, so I thought it was pretty good racing. I don't know how it came across on TV. A lot better than last year's race, pretty single-file and fast. A lot of tracks we've had resin at, just aren't very good."
ADVERTISEMENT
Article continues below this ad
What else did Kyle Larson and William Byron say?
ADVERTISEMENT
Article continues below this ad
Admittedly, Larson adopted a rather defeatist stance and was ready to park the car. However, an 'Any Given Sunday' style speech from crew chief Cliff Daniels changed his mind quickly. Meanwhile, poor old Byron had an even worse race, because at least Larson was able to fight his way up the order.
According to Byron, "I thought we were in the catbird seat there. We were the first team on new tires. Had a good restart through (turn) One and got ahead of the #45. We were going to cycle out really well there, and then they just started wrecking on the bottom and came up into us on the top. It sucks. It's chaos out there. You can't drive the car the slightest bit sideways or you're wrecked. So, if somebody gets a little bit sideways, then we all wreck. It either takes out other people or they spin to the infield. Just chaos."
ADVERTISEMENT
Article continues below this ad
WATCH STORY: Kyle Larson Reveals He Is "Nervous" NASCAR Will Double Down on the Thing Hendrick Motorsports Teammate Chase Elliott Loves the Most
Now, the drivers can do nothing but rue what could have been for them at the Coca-Cola 600. While Hendrick Motorsports had their issues, Joe Gibbs Racing ran riot. Denny Hamlin seized victory and even led a JGR 1-2 with Kyle Busch in second place. In 9th, Larson was the top Hendrick ahead of his teammate Bowman.