Hendrick Motorsports "Golden Boy" Chase Elliott's All-Star Race Wish Garners Negative Reactions From The NASCAR Fans
Published 05/19/2022, 9:30 AM EDT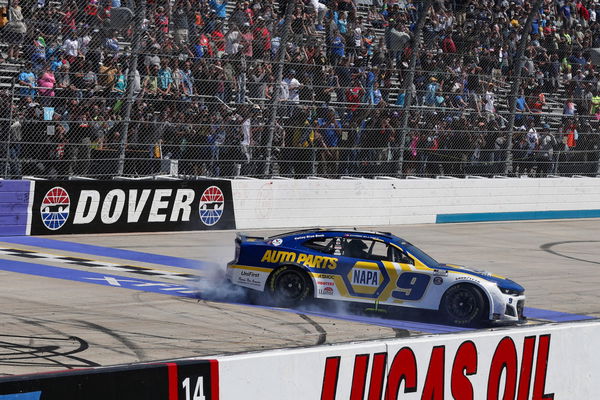 This weekend is the NASCAR All-Star race at the Texas Motor Speedway. However, the paddock seems to be divided over the whole situation. While some drivers would like it if the race had a more permanent residence, others are happy with the rotation system. Among them were Hendrick Motorsports duo, Kyle Larson and Chase Elliott.
Admittedly, Elliott had a slightly selfish reason to want a change of venue. This was because he knows that Texas is not one of his strong tracks. Unfortunately, his responses brought about a fair number of negative reactions from fans on social media. Many are of the opinion that the #9 Hendrick Motorsports driver is the sport's 'golden child'.
Somehow I think the latter is more important to him.

— 𝙰𝚕𝚎𝚡 𝙱𝚕𝚊𝚌𝚔𝚠𝚎𝚕𝚕 (@alexrblackwell) May 18, 2022
ADVERTISEMENT
Article continues below this ad
Well, that seals it. Golden boy said move it because he isn't good at Texas. Guess it will be on a road course next year 🤷‍♂️

— Burt Macklin (@TeamBubba23) May 18, 2022
That all about confirms the all star moving next year

— Kick Nohan (@nicksucks21) May 18, 2022
His chances of winning would be bigger for sure. I hope NASCAR takes that advice.

— Thurston Moran (@ThurstonMoran) May 19, 2022
And now he will be booed by the Texas fans

— Chad Bryant (@ChadBry71043767) May 18, 2022
Of course, there will be Texas fans who will be mad at the lack of endorsement from the 2020 Cup champion. However, in his interview, he admitted that the original intention for the All-Star race was probably meant for rotated races. To be precise, it would give fans in different parts of the country a reason to attend races.
What else did Chase Elliott say about the All-Star race?
Of course, he insisted that the concept of an All-Star race was pretty cool. In addition to that, there were many other sports that had an All-Star event. Of course, Chase Elliott did confess that he would be happier with lesser visits to the state of Texas for NASCAR races.
Looking at it from his point of view, it is understandable that he would want to go to tracks where he stands a better chance of winning.
WATCH STORY: From Dale Earnhardt to Chase Elliott: NASCAR Drivers to Win a Race on April Fool's Day
The sport is more than just Chase Elliott

— Lisa Pennington Osuna (@lisaosuna88) May 18, 2022
ADVERTISEMENT
Article continues below this ad
Ok let's take where Chase can win.

— L.Batchelor (@rpm4309) May 18, 2022
ADVERTISEMENT
Article continues below this ad
It is also worth noting that he was not alone in wanting the All-Star race at different locations. Teammate Kyle Larson acknowledged that there is a logistical issue with the whole matter.
So it may not be advisable to have the marquee race at different venues. However, he also said that, at least in the month of May, it seems more favorable to move, compared to moving the championship finale race.
Edited By: Pritam Priyedarshi