Here's a First Look at NASCAR Great Jimmie Johnson's New IndyCar Livery Which He Helped Design
Published 02/23/2021, 5:00 AM EST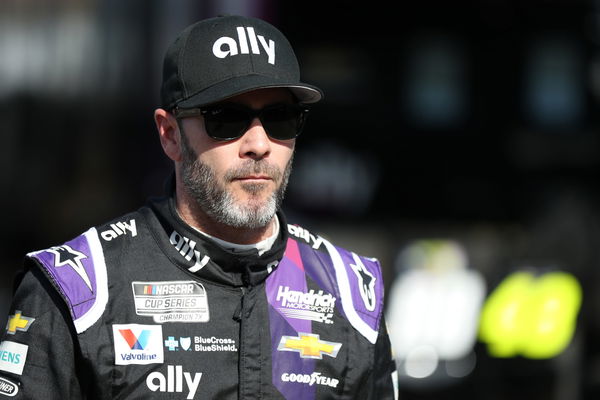 ---
---
Day by day, we are getting closer to seeing Jimmie Johnson tackle the IndyCar Series for the first time. Safe to say, he plans to make a real impression on the fans and on the grid. To do that, Johnson had a major hand in deciding the recently unveiled livery of his new IndyCar #48 ride.
ADVERTISEMENT
Article continues below this ad
So, when Jimmie Johnson makes his official debut in April, his car will bear the signature blue of Carvana. In addition to that, the car has a base color of black and gold.
Of course, Johnson will not be the only one sampling the car, as Tony Kanaan is subbing for him at oval races. As it turns out, the former NASCAR driver wanted to be more involved with paint schemes, which led to this decision.
ADVERTISEMENT
Article continues below this ad
What did Jimmie Johnson say about the livery?
"I'm really excited about this paint scheme and over the last few years of my career I've found myself much more involved with the look of the cars that I drive," Johnson said.
"I was very thankful Carvana gave me the opportunity to be involved in the design process of my very first Indycar.
ADVERTISEMENT
Article continues below this ad
According to the 45-year-old, "The collaboration between myself, Chip Ganassi Racing, Carvana and the design group was a lot of fun. We came up with many, many good ideas. So I'm very excited about our primary paint scheme and also excited about some opportunities we might have in the future to mix things up and keep things fresh."
Now, all that the veteran needs to do is wait for the new season to kick off. Obviously, there won't be many expectations, but he will try his hardest to perform well for the outfit.
ADVERTISEMENT
Article continues below this ad