How a Harmless Joke Helped Denny Hamlin and Michael Jordan Start Their Own Team
Published 09/24/2020, 1:35 PM EDT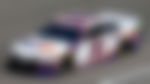 ---
---
Earlier this week, Denny Hamlin, Bubba Wallace and Michael Jordan sent the NASCAR community in a frenzy. Hamlin and Jordan announced that they were setting up a new NASCAR team with Wallace behind the wheel. However, it is worth noting that the announcement was ignited courtesy of a passing joke from Hamlin.
ADVERTISEMENT
Article continues below this ad
The #11 driver confessed that he was joking about owning a Cup Series team with Michael Jordan. He cheekily said, "Looks like we're owners together, ha, ha. Congratulations. He said, 'Fake news, but if you want to make it real news, let me know'."
Soon, one thing led to another, and a new NASCAR team sprouted on the 2021 grid with Bubba Wallace on the lineup. According to Jordan, the entire incident played out in 10 days and worked perfectly for Wallace. The current Richard Petty driver was actually on the hunt for a seat in 2021 after parting ways with the outfit.
ADVERTISEMENT
Article continues below this ad
What else is there to know about the Denny Hamlin-Michael Jordan venture?
Only the bare details have broken cover, like the owner and driver names. However, elements like the car number, sponsors, manufacturer and team name have been kept under wraps.
ADVERTISEMENT
Article continues below this ad
However, some suggest that the team could link up with Toyota and Joe Gibbs Racing. Hamlin confessed to being taken aback at Jordan's reaction, especially since Michael Jordan told Dale Earnhardt Jr that he was not planning to become a team owner.
However, when Denny Hamlin cracked the joke, Jordan felt that it was the right time to go for it. For his part, Hamlin is confident that his experience will be useful in aiding in his team's hopeful rise up the ranks.
ADVERTISEMENT
Article continues below this ad
"I'm a fan of the sport first," Jordan concluded. "I love sports, I love, love NASCAR. I don't go into with the idea and concept that I'm trying to change and shape NASCAR, I go in with my passion and I hope that whoever knows Michael Jordan or whoever supports Michael Jordan. Whoever supports NASCAR see this as an opportunity to enjoy the sport."