How a Tweet Led to NFL Superstar Alvin Kamara's Partnership with NASCAR Driver Ryan Vargas
Published 02/18/2021, 6:35 AM EST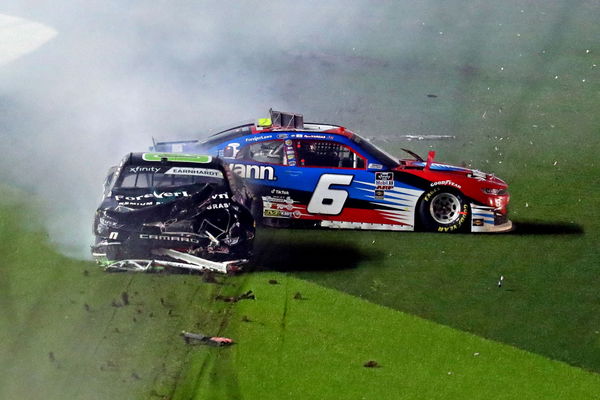 At the season-opening race at Daytona, Ryan Vargas finished in 18th place. Sadly for him and the JD Motorsports team, they were without a primary sponsor for this weekend's race on the Daytona road course. Luckily, there was some light at the end of the tunnel once Vargas took to social media. Suffice it to say that the plan worked brilliantly and help came from an unexpected source.
New Orleans Saints running back, Alvin Kamara, contacted Vargas to offer an alliance. Kamara's juice bar chain, The Big Squeezy, stepped in and inked a new deal with the team. Now, Vargas and the team will race this Saturday with the colorful brand emblazoned on their car at the Super Start Batteries 188.
Speaking about the deal, Ryan Vargas said, "Having the opportunity to work with Alvin Kamara and The Big Squeezy is such a huge honor. As one of the best Running Backs in the game, I know Alvin puts 110% effort into everything he does. That can easily be said for myself and our #6 JD Motorsports Team. I'm excited to be a part of Alvin's first step into the NASCAR Industry. I believe this is just the start a long, successful partnership!"
ADVERTISEMENT
Article continues below this ad
ADVERTISEMENT
Article continues below this ad
What is The Big Squeezy and what does it mean for Ryan Vargas?
The Big Squeezy is a juice bar chain, primarily based in Louisiana. Of course, the franchise hopes to expand and open up more bars in the future, and Vargas may just be the ticket.
Apparently, Kamara is a massive NASCAR fan and has attended multiple races. Now, he has taken his involvement in the sport one step further. This is because it will be the first time he enters the sport in a sponsorship role. In addition to that, it could also serve as a bridge between two iconic sports – NASCAR and the NFL.
ADVERTISEMENT
Article continues below this ad
Kamara confessed that when the opportunity arose, he had to pounce on it immediately. When he did his homework on Ryan Vargas, he was impressed with what he read about him and JD Motorsports. Now, the various parties will head to the Daytona road course for this weekend's race, and will hopefully stick around in the long run.