How the NASCAR Truck Series Championship Battle Shapes Up After Grant Enfinger Wins at Martinsville
Published 10/31/2020, 10:48 AM EDT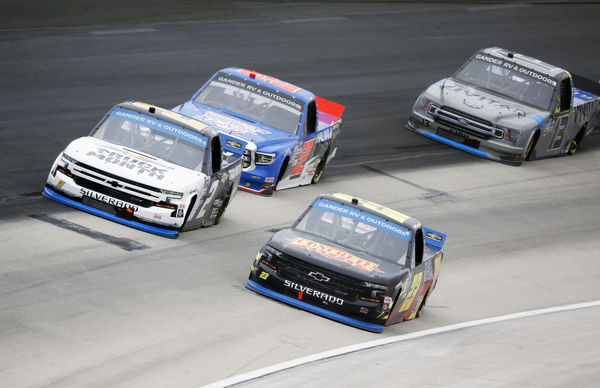 After the race at the Texas Motor Speedway, Sheldon Creed and Brett Moffitt had already secured their Championship 4 berths. With two spots left, the intensity of the competition increased tenfold. After a fast and furious Hall of Fame 200, NASCAR Truck Series veteran Grant Enfinger won the race and snatched a spot.
To achieve that, the ThorSport Racing driver fended off teammate Ben Rhodes for the victory. The 35-year-old successfully nailed two restarts in the last 10 laps of the Martinsville Speedway.
When the checkered flag flew, Rhodes missed out on a victory by 0.803 seconds. This win is Enfinger's fourth of the season and he will join Brett Moffitt, Sheldon Creed, and Zane Smith in the final four.
ADVERTISEMENT
Article continues below this ad
"Thank you guys, thank you guys, this is unbelievable," Enfinger crowed over the radio.
"It was tough, we knew we were going to have to take our gloves off and fight for this one. It's been an up-and-down season for us, but we tended to peak when we needed to. And now I feel really good about our chances at Phoenix."
How did the field stack up in the NASCAR Truck Series race?
Meanwhile, rookie driver Zane Smith finished behind the ThorSport duo. Christian Eckes and defending champion Matt Crafton rounded out the Top 5. Sadly, Rhodes and Crafton's efforts were not enough to see them through to the Championship 4. For Crafton, it was all the more heartbreaking, as he came within three points of fourth-placed Smith.
Enfinger wins to qualify for the championship 4 … ZSmith finishes 3rd and advances … so Championship 4 is Creed Moffitt Enfinger ZSmith #nascar

— Bob Pockrass (@bobpockrass) October 31, 2020
ADVERTISEMENT
Article continues below this ad
With eight laps to go, there was a bit of an accident that eliminated some of the front-runners. Among them were Rhodes, Raphael Lessard, and Moffitt. Fortunately, Rhodes' car was still in working condition, but the other two were out for the count.
When the green flag dropped, everything was set for a two-lap sprint to the finish. Rhodes blocked off Christian Eckes, a week after their infamous bust-up at the Texas Motor Speedway.
To the surprise of many, regular-season champion Austin Hill limped back to the garage for good, after only 117 laps. It was especially heartbreaking, as he was the highest-ranked driver without a playoff victory.
ADVERTISEMENT
Article continues below this ad
Now, Grant Enfinger will have to battle it out with Sheldon Creed, Brett Moffitt, and the rookie, Zane Smith. The Phoenix Raceway should provide the perfect backdrop for their showdown.