"Huge Accomplishment" – Kyle Busch Targets Richard Petty's Major All-Time NASCAR Record After 1st Cup Win in 2021
Published 05/03/2021, 7:20 AM EDT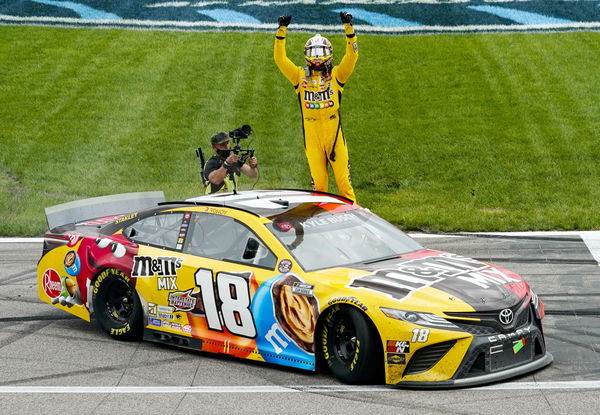 ---
---
Kyle Busch found his way back to Victory Lane after pulling ahead during a late restart with just two laps to go in the Buschy McBusch Race 400 at Kansas on Sunday. Busch swept the NASCAR weekend with wins in both the Truck and Cup Series races and Sunday's win was his first in the Cup Series in 2021.
ADVERTISEMENT
Article continues below this ad
Busch, celebrating his 36th birthday in some style, also jumped up a spot on an important list in NASCAR history. The Kansas Cup win means that Busch now has at least one win in 17 consecutive Cup seasons, tying David Pearson's record for second place on the all-time list.
'Rowdy' is now just one win in a new season away from tying the legendary Richard Petty's record of 18 consecutive seasons with a win.
ADVERTISEMENT
Article continues below this ad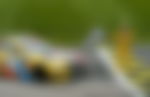 Kyle Busch reflects on keeping the streak alive
"It gives me chills. I don't know if I just got a chill from the air-conditioning or actually hearing that," Busch said on moving closer to the major record, soon after winning on Sunday.
The Joe Gibbs Racing superstar recognized the importance of achieving any big feat that's up for grabs. And this one is very big indeed.
"It's meaningful. It's a huge accomplishment. I feel like any accomplishment that's still out there that's able to be achieved to get it is something to be honored with," Busch continued.
It's an opportunity of a lifetime for any driver and Busch will now look to tie Petty's record as he approaches his 37th birthday in 2022. Many of Petty's achievements were always believed to remain untouched. To get the opportunity to beat one such record is a big deal for Busch.
Busch is keen on breaking The King's record
"Being able to do it 17 years now and hopefully go on into 18, 19, 20, whatever it is. There's definitely not very many things that you're going to beat The King at, that's for darned sure.
"Hopefully, we can continue that tradition. And then make sure that we get to 18, get to 19, and so on," Busch said further.
ADVERTISEMENT
Article continues below this ad
Busch has faced tough times since the start of 2020. Last season wasn't good for him and the 2021 win coming still relatively early in the season will be a huge confidence booster.
As Busch attempts to tie Petty's record next year, he will have to do it in the new Next Gen NASCAR car that debuts in 2022.
ADVERTISEMENT
Article continues below this ad