"I Could Either Help You or Kill You" – Denny Hamlin & Michael Jordan's Team President Exposes the "Cutthroat" Culture in NASCAR
Published 03/19/2023, 12:32 PM EDT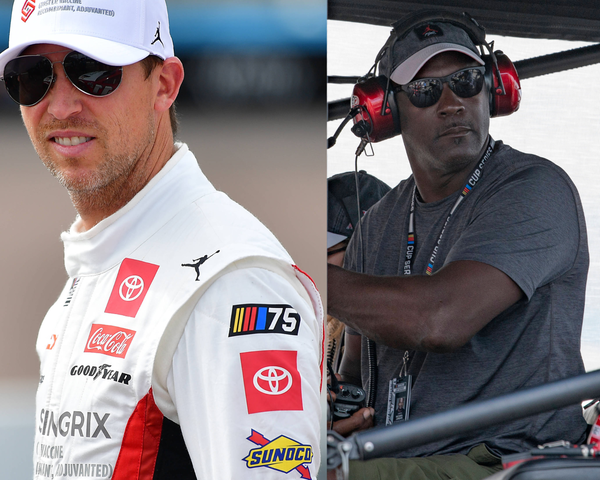 Steve Lauletta, the old hand for Denny Hamlin and Michael Jordan, recently sat down to have an unfiltered chat with the hosts of The Dale Jr. Download podcast. The latest episode of the podcast had Kelley Earnhardt Miller, Mike David, and Lauletta getting into interesting conversations on a variety of subjects. 
The 23X1 Racing team president was seen spilling the beans on behind-the-scene scenarios. During the podcast, Lauletta shared some genuine concerns about the "Cutthroat" culture that exists in NASCAR.
23XI Racing's President reveals the not-so-good side of the game
ADVERTISEMENT
Article continues below this ad
Reflecting upon the creative approach to branding that the 23X1 Racing team has followed, Mike David asked Lauletta about how they had managed to sustain such good marketing practices. Furthermore, David questioned him on how their team, in comparison to others, has been able to pull in such great sponsors. Steve answered by throwing some light on the habit of "grabbing each other's share" in the business. 
He shared, "I've had conversations with tracks and I simply say this, 'Why are your people calling the brands I have relationships with?' They should call me because I have the relationship, so I can do one of a few things. I could either help you or I can kill you. Right? So why don't you want me to help you?" With high hopes for the growth of the team in the future and owing to the degree to which he yields power within the organization.
Lauletta believes that in most cases, it is most likely intentional. He further added, "But I don't want you to be doing it around back doors and allies and all the other things." He emphasized that it would be better if all the tracks worked together.
ADVERTISEMENT
Article continues below this ad
President of Denny Hamlin and Michael Jordan's team
emphasizes working together
Steve believes in pulling others up rather than pushing them down and wants the teams to help each other gain advantage. He stressed how vital it is to switch to this kind of mentality.
ADVERTISEMENT
Article continues below this ad
Lauletta further was of the opinion that it would be rather easy for teams if they put out a single solution. He meant to communicate the need to stop trying to snatch others' opportunities, and rather, help each other grow together. Well, Steve definitely has a point there. The industry must stand with each other. 
WATCH THIS STORY – Tyler Reddick Admits Michael Jordan Wasn't "Expecting a Lot" From Him, But It Was a Ploy for the Best
Edited By: Nischal Kandpal