"I Had One of My Best Years" – Aric Almirola on Why 2020 Is His 'Career Year'
Published 12/24/2020, 4:56 AM EST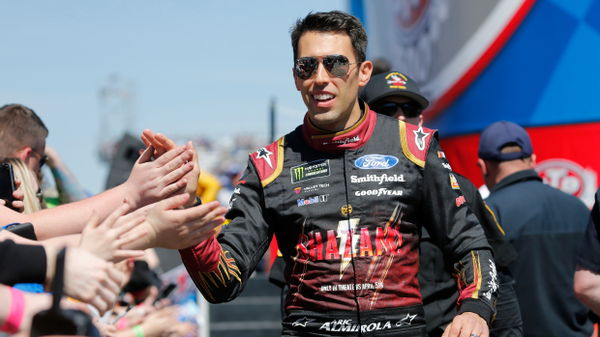 ---
---
Recently, Aric Almirola spoke about the 2020 Cup Series season and how it affected him. He acknowledged that it was a crazy year, especially with the six to seven-week long COVID-19 shutdown.
ADVERTISEMENT
Article continues below this ad
He confessed, "It was just such an awkward year for everybody.
"Through it, I had one of my best years, through all the craziness.
ADVERTISEMENT
Article continues below this ad
"We ran so well throughout the summer and led a bunch of laps and ran Top five."
Aric Almirola also acknowledged that he recorded a great run of consecutive Top-fives and Top-10s. In spite of this, the sport had a way of humbling him, as he ended the season without a win.
Since every sport has a win and loss column, a driver/athlete's success is measured in that way. In NASCAR, the number of wins, Top fives and Top 10s, laps led, DNFs, bad runs, and more, measure a driver's success. This is why 2020 has been so kind to him and the team.
What else did Aric Almirola say?
In spite of this, there is always that extra bit more that drivers want to achieve. Racers are competitive by nature, and they always have the hunger to win. Sparing a thought for everyone else, he acknowledged that the year has been hard for everyone.
On a personal level, Almirola found it difficult without the community, his family, and the ability to visit the shop. All in all, he missed being around people.
ADVERTISEMENT
Article continues below this ad
Looking ahead to the 2021 season, Aric Almirola said that it will be important to look back on 2020 and evaluate it. In essence, he and the team should try and improve on his 2020 form and learn from any mistakes.
At the end of the day, it is important to try to gun for race wins when they have a car capable of winning. In other words, regardless of good days, bad days, and average days, the key to everything is consistency.
Later on, when the playoffs arrive, he and Stewart-Haas Racing have to raise their game. Speaking of which, Almirola is confident that he can deliver during the playoffs. Now, he and the rest of the NASCAR grid will look forward to 2021's arrival.
ADVERTISEMENT
Article continues below this ad