"I Hate Joey Logano" – Who Said What on the Radio in the NASCAR Cup Series 2021 Race at Atlanta
Published 03/24/2021, 10:00 AM EDT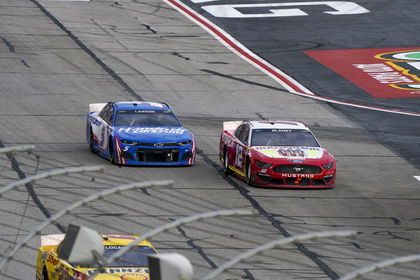 ---
---
Before the much-awaited Bristol dirt race this weekend, tThe NASCAR Cup Series field had another battle at a 1.5-mile track. This past Sunday, another new winner for this season was crowned as Ryan Blaney won his fifth Cup race in a stunning turn of events in the final stage.
ADVERTISEMENT
Article continues below this ad
One of the strongest drivers in recent time, Kevin Harvick continued to have issues with his car, which has lacked enough speed. This time, Harvick showed his frustration after he went down a lap very quickly in the race.
Kyle Larson, who found the lead rapidly in the opening stage, passed Harvick to put him down a lap. "This thing is the biggest pile of c**p I've ever driven in Atlanta," quipped Harvick on the team radio.
ADVERTISEMENT
Article continues below this ad
Meanwhile, Larson won the first stage, ahead of Kyle Busch and Blaney, and was already running away with the race.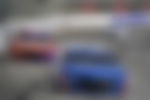 Kurt Busch miffed with Denny Hamlin: "F****ng ran through us"
On the next restart, there seemed to be some misjudgment from some drivers. Amid traffic, Denny Hamlin caught Kurt Busch from the back, sending him hard into the wall. Busch was not happy at all as the incident ended his race on a day where he looked like a top-five contender.
"What the f**k. I picked the lane. I was in the middle lane," said Busch on the radio. "He didn't run in the back of us. He f****ng ran through us! Everybody was checking up," he continued as he returned to the garage.
Hamlin then clarified his stance on the matter. "F**k! I mean I f****ing turned him. But damn I was pushing and I was letting it stop," he said.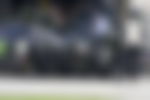 In the battle for the lead, Blaney had no answers to Larson, who was dominating proceedings. "#5 car is ridiculous. I don't know how he stays so gripped up so long," Blaney told his team.
Then, Brad Keselowski hit Martin Truex Jr. from the back, causing some damage to both cars. "I lifted for the #2 to get to the top. He hit me in the ass. So I guess he was in line," said Truex Jr. "Freaking killed it," Keselowski said, referring to his car.
Chase Elliott's NASCAR Cup Series race at home ends early
Hometown hero Chase Elliott had a bit of misfortune as his engine acted up during a crucial phase of the race. "Blew up! I guess, or something. I don't know what happened," Elliott said as his race ended early.
Larson won another stage, while Austin Dillon was thrilled as he made a run for the top-five. "Get f****ng fired up in there. Let's have some finishers at the end," said Dillon.
As the final stage progressed, Blaney continued to improve, but Larson was way ahead of everyone. Blaney kept searching for a way, as his spotter gave him some motivation.
"This should play to our strength. It'll be the longest run we've had all day. 54 laps to go," said Josh Williams.
Kyle Larson was not happy with Joey Logano as Ryan Blaney charged ahead
The main drama then began. Blaney's team spotted that Larson could run into some trouble as he approached the lapped cars. One of those cars was Blaney's teammate Joey Logano, who Larson could not pass as his tires also started to wear out.
"22 (Logano) is such an idiot. Nice and smooth, keep hitting your marks," said Tyler Monn, Larson's spotter. Blaney kept reducing the gap and eventually overtook Larson, which was something no one saw coming.
"I hate Joey Logano, man," said a frustrated Larson. His team kept urging him to not give up. However, it was too late as Blaney took the chequered flag.
ADVERTISEMENT
Article continues below this ad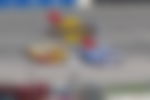 "I don't know how he beat the 5. But it's impressive," said Matt DiBenedetto.
Blaney's win means that no driver has won more than once so far this season. It sets up things nicely ahead of the historic Bristol Dirt race on Sunday.
ADVERTISEMENT
Article continues below this ad