"I Knew I Wasn't Going to Catch Him": Kyle Busch Talks After a Runner-Up Finish in the NASCAR All-Star Race
Published 07/16/2020, 11:09 AM EDT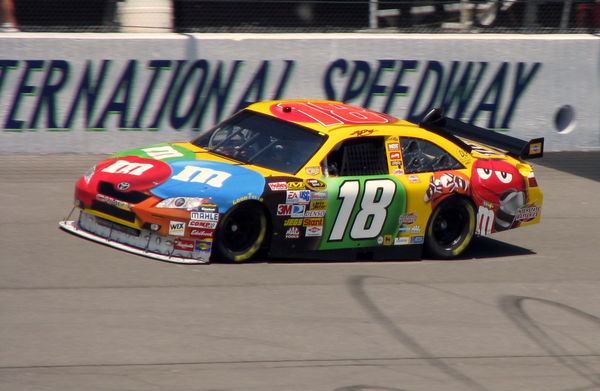 ---
---
Kyle Busch faced a tough start to the most recent edition of the NASCAR All-Star race. However, he was able to pull through in the final stage and earned himself P2, just behind Chase Elliott.
ADVERTISEMENT
Article continues below this ad
After the race, Kyle talked to the media and expressed his views on the team's performance in the All-Star race. He opened up about how, as far as he was concerned, he could have done a little better.
He said, "I tried running in there early in the last stage. I was trying to go a little bit earlier, probably should have. But then I backed down and I knew I wasn't going to catch him or pass him.
ADVERTISEMENT
Article continues below this ad
"I had to do something different. So I tried and I guess we inched up a bit closer on him but that was about it."
After that, he talked about his tough run in the first stages and how they handled it, "The MnM Camery has really been running hard, we are trying hard and we are running ok but it seemed like we are not there.
"However, the last couple of adjustments really helped us to do a great job, helping the car, making it better."
Additionally, he doubled down on the struggle that he has been facing during the 2020 season, "But overall its just 4th, 5th, 6th, 2nd places this year. What can you do, you just gotta keep doing.
"Thank you MnM, Snickers, Toyota, Rowdy energy we will fight next week."
ADVERTISEMENT
Article continues below this ad
Kyle Busch got multiple places in the final restart
Kyle was running out of the 'Top-10' before the restart. However, he was able to take advantage of the position. He managed to overtake a series of cars and finish the race at P2.
ADVERTISEMENT
Article continues below this ad
He said, "I got a good restart, I guess I went from 12th to all the way up to 5th or something. So that was a huge bonus for, getting that track position."