"I Might Be One to Watch" – Bubba Wallace Hopes to Challenge Kyle Larson, Christopher Bell in NASCAR Bristol Dirt Race
Published 03/24/2021, 8:00 AM EDT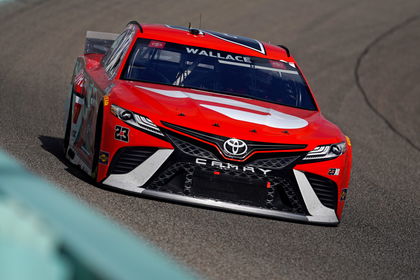 ---
---
At tracks where the stronger cars and top drivers have been dominant, Bubba Wallace has faced some growing pains so far in his debut NASCAR Cup season with 23XI Racing. However, all that could change this weekend on the Bristol dirt, where the competition is wide open.
ADVERTISEMENT
Article continues below this ad
Fortunately, Wallace is one of the few drivers on the current Cup grid to have won on a dirt track. He won the 2014 NASCAR Truck race at Eldora Speedway, driving for Kyle Busch Motorsports.
However, it has been a while since Wallace drove on the dirt, and he will drive the Truck race at Bristol, to prepare for the Cup race on Sunday. When asked if he could spring another surprise, this time in the Cup Series, Wallace had an interesting answer.
ADVERTISEMENT
Article continues below this ad
"I might be the one to watch, that might be for some crazy reasons. That's kind of every race, you don't know what to expect out of Bubba Wallace," the no. 23 car driver said.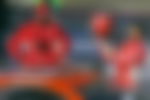 Bubba Wallace talks about his preparation for the Bristol dirt race
For Wallace, the focus will be on learning as much as he can from both the Truck and Cup races. While a win will be sweeter than anything else, Bubba wants to focus on the process in his debut season with a new team.
"Going into it, just gotta have as much fun as we can. Obviously, you're going to be learning from the moment you hit the race track till the time you leave. How we can be better," he added.
Wallace was also part of the debriefing meeting with the Joe Gibbs Racing team, where Wallace's team and the JGR teams shared their views on dirt racing.
Also part of the meeting was Christopher Bell, who is one of the best dirt racers around, and a favorite going into Sunday's race.
"Most of us there talking about dirt, listening to Kyle (Busch) talking about dirt, and C. Bell (Christopher Bell) is just sitting there with a look on his face which is like, 'You guys have no idea what you're talking about.' So, It's been pretty funny leading up to that," Wallace said about the meeting.
The 23XI Racing star names his favorites for the Cup race at Bristol
The likes of Bell and Kyle Larson are favorites for Sunday's race due to their dirt racing experience. Wallace agrees with that assessment and named another driver who could be tough to beat.
"Obviously, I think (Kyle) Larson, C. Bell are the ones to watch out for, (Tyler) Reddick for sure," he said.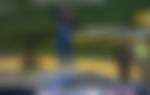 From his experience at Eldora, the 27-year-old felt that the Truck drove more like a "really slick asphalt" rather than a dirt late model or a sprint car. He had to be careful of factors like rear grip and forward drive while driving on the dirt back then.
ADVERTISEMENT
Article continues below this ad
Wallace has the confidence of a NASCAR win on the dirt in the past. "We'll see, we've beaten one of the best dirt guys in 2014, let's see if we can do it again," he expressed.
The Cup cars are a different challenge altogether on a dirt track, and we could see some very interesting moments involving Wallace and the others, come Sunday.
ADVERTISEMENT
Article continues below this ad