"I Sat Next to Kyle Busch, Shoulder to Shoulder for 5 Hours" – Joey Logano Details Traveling With Bitter Rival to Las Vegas
Published 03/17/2023, 2:27 PM EDT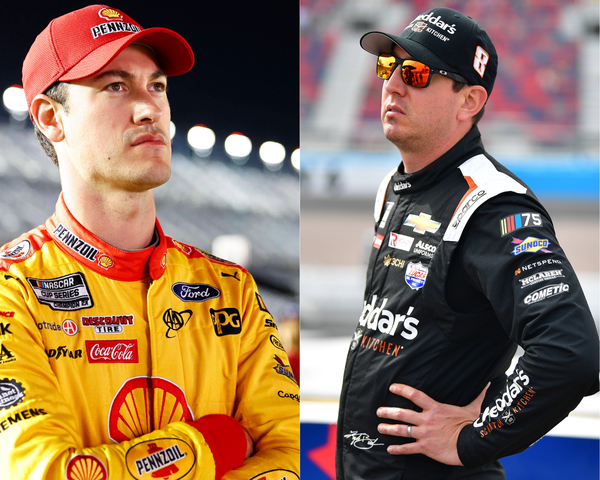 Kyle Busch
and Joey Logano have arguably had one of the most talked about rivalries of this generation. Ever wondered if they even speak off the tracks? What could happen if they are to travel together? Can they survive each other without one hurting the other? Of course, these are some crazy scenarios. Amazingly, it happened for real as
Joey Logano
 gave us a detailed idea about it.
It is always interesting to know what goes on behind the scenes from a fan's perspective. The prospect of Logano and Busch together itself is so enticing, let alone the other details. However, the way the defending NASCAR Cup Series champion went about this story is quite hilarious.
ADVERTISEMENT
Article continues below this ad
Joey Logano and Kyle Busch travel together to Vegas
Many wouldn't have believed this scenario given the history between the two drivers. Had it not come from Logano's mouth, it would have been difficult to trust. But it is true as the 2015 Daytona 500 winner shared the story while speaking on SiriusXM NASCAR Radio.
Logano started off by explaining how one of his friends charters an airplane to travel for the different races throughout the season. This flight includes many of the NASCAR spotters and drivers. While traveling to the West Coast recently, some big names including
Kevin Harvick
, William Byron,
Martin Truex Jr
, and Kyle Busch joined Logano.
It was then when he and Busch sat together. On this, Logano said, "It's been interesting [traveling in the chartered flight] you know but it's been fun. I sat next to Kyle Busch shoulder to shoulder for five hours on the way to Vegas, how about that?"
Needless to say, the Team Penske driver enjoyed shocking the hosts on the radio with this statement alone. His exact words were, "Couldn't have seen that one coming, huh?". Logano followed up with a hilarious statement. He said, "We talked it out. I think we are okay. I had my nice face on, we were okay. " He might be good behind the wheel but is even better with his humor.
The script didn't end there. When asked where he put the other face, the 32-year-old said, "Yeah, underneath the baggage storage I put that. I get that out when I landed."
Logano is surely an excellent television material. This is probably the reason his recent recommendation to bring back glory to NASCAR should be taken seriously.
Joey Logano speaks from a fan's perspective to get back glory to NASCAR
ADVERTISEMENT
Article continues below this ad
Speaking on SiriusXM NASCAR Radio, he said, "I still think we can add another 300 horsepower to these things, and that'd be even more fun. I'm pretty sure every driver would love that. Also pretty sure that every fan would think that's bada**. I like horsepower, I think everybody likes. Like a big old freaking motor in these things. At least that's what I'd want."
ADVERTISEMENT
Article continues below this ad
Obviously, NASCAR would welcome more suggestions before finally making a call. What do you think can work best to help the sport get back to its best?
Edited By: Ranvijay Singh