"I'll Stick to Driving" – When NASCAR Star Aric Almirola Tried to Catch NFL Punts With Detroit Lions Players
Published 01/19/2021, 2:49 AM EST
---
---
On Sunday, the Tampa Bay Buccaneers took on the New Orleans Saints and defeated them. In the buildup to the game, NASCAR driver Aric Almirola shared a throwback video of himself. In that video, the Florida native got a chance to visit the Detroit Lions' facility in 2020 but insisted that his heart is faithful to the Tampa Bay Buccaneers.
ADVERTISEMENT
Article continues below this ad
While on his Detroit Lions visit, he tried his hand at catching punts. Unfortunately, he quickly realized that he was terrible at it, so a career in the NFL was out of the question. In the end, he was only able to snag a couple of catches successfully. It was at this point that he quickly figured out that NASCAR racing was more his speed.
ADVERTISEMENT
Article continues below this ad
Around that time, Almirola was promoting the FireKeepers Casino 400 at Michigan. As it turns out, he is quite a fitness fan, which explains why he dropped by the Lions off-season strength session.
NASCAR star Aric Almirola had a lot of fun with the Lions
Obviously, the team was more than happy to host Almirola in their practice session. Needless to say, Almirola was fascinated with the players' various techniques and their hard work in the preseason.
When catching practice began, Aric Almirola teamed up with punter Sam Martin. Despite the help of wide receiver Danny Amendola, the Stewart-Haas Racing driver struggled. Later on, he visited the weight room to check out the drills and gauge how players improved their skills.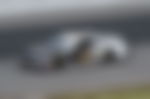 After the visit, he stopped off at Ford's Garage to talk about the FireKeepers Casino 400. Needless to say, Almirola is quite fond of the Michigan International Speedway. He also admitted that the track has impressed him, especially in terms of atmosphere.
"It's a very, very family-friendly atmosphere," Almirola said. "For me as a kid, my first few experiences going to a race, I was hooked. You take a little kid, like Alex, to a racetrack and let him see cars go 200 miles per hour; and smell it and feel it and hear it. It's an adrenaline rush unlike anything else."
Now, Aric Almirola is preparing himself for the 2021 Cup Series season. He knows that the new season will be a lot tougher than before, so he has to work harder. In his 13-year career, he has only mustered two wins, but he will be keen to change that dynamic in the 2021 season.