"I'm Fighting for a Job Right Now": Noah Gragson Updates His Uncertain 2021 Plan
Published 06/07/2020, 6:59 AM EDT

Follow Us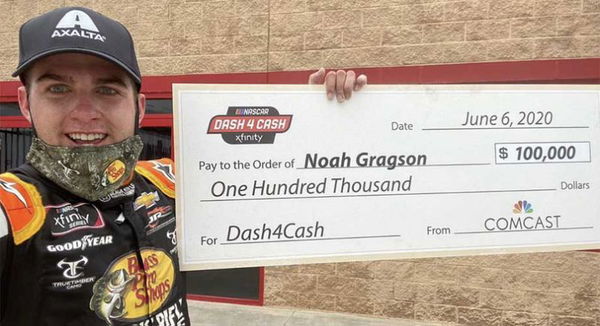 Last night, Noah Gragson finished the race ahead of his 'Dash 4 Cash' competitors to win the prize of $100,000 and a spot in next week's race.
His competitors Harrison Burton, Brandon Jones, and Chase Briscoe finished at the fifth, eighth, and ninth spot respectively. After the race, Gragson said, "It's an incredible opportunity what Xfinity is doing with the Dash 4 Cash program,". He added, "It's quite the privilege and the honor to be able to compete for the $100,000"
Bob Pockrass posted a video of his interview on Twitter. Noah talks about his race, and his future plans in the post-race interview.
ADVERTISEMENT
Article continues below this ad
AJ Allmendinger triumphs over Gragson to take the win at Atlanta
In the final laps, Gragson was fighting hard for the win. However, AJ was able to defend his every move and took home his first oval track win. After the race, Noah talked about his race. He said, "I ate AJ's bait there at the end,"
Noah explained that AJ was saving his tires and he thought that he burned his tires are burned. This way AJ was able to have better speed in the final laps and took the win.
He said, "I just got beat by his experience. He's a phenomenal driver and a great competitor in the series. It was a lot of fun racing with him. Just burnt my stuff up when I thought he burnt his stuff up, so I started making a charge there with about 15-20 to go. Burnt my tires up and he just drove away."
ADVERTISEMENT
Article continues below this ad
Noah Gragson on his future in NASCAR Xfinity
Noah Gragson continued his strong performance after the NASCAR Xfinity season's return. He scored a win last week in Bristol and with this second-place finish at Atlanta, he continues a strong run of momentum this season.
Earlier, He took the win in the season-opener at Daytona International Speedway. However, Noah revealed that his future in NASCAR Xfinity is still not clear. And he doesn't have a drive for the 2021 season.
ADVERTISEMENT
Article continues below this ad
He said, "I'm fighting for a job right now. I don't really know what I'm going to do next year. All I can do is focus on today. All I can do is focus on this race team and on myself to be better."