"Impressive to See" – Kyle Busch Hails 'Talented' Kyle Larson and His Fantastic Start to 2021 NASCAR Season
Published 03/08/2021, 10:30 AM CST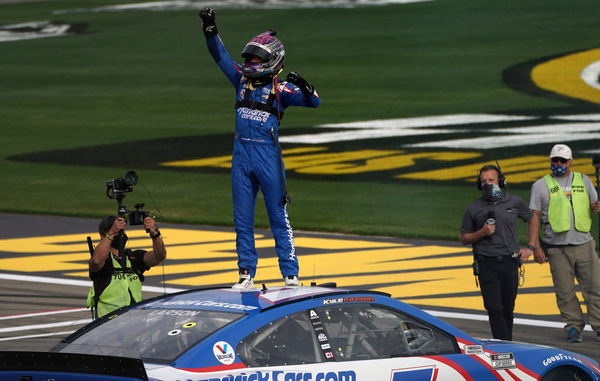 ---
---
The reactions from some of the top NASCAR Cup Series drivers after Kyle Larson won Sunday's race at Las Vegas Motor Speedway, show the level of respect they share with him. Bubba Wallace and Brad Keselowski were the first ones to wish Larson after his comeback win. Kyle Busch joined the chorus too.
ADVERTISEMENT
Article continues below this ad
It was particularly heartbreaking for Keselowski and Busch, as they came close to the top spot themselves. Keselowski and Busch finished in 2nd and 3rd places respectively.
While Keselowski congratulated Larson on the race track right after the race, Busch had words of high praise for the Hendrick Motorsports driver, in his post-race media interaction.
ADVERTISEMENT
Article continues below this ad
Busch said there is no doubt about the pace of the Hendrick cars. Add a talented driver like Larson to the mix, and it further helps the team's cause.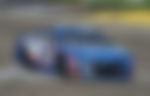 Kyle Busch is impressed with how Kyle Larson has started the season
"Yeah, no, I mean, Hendrick has good cars, right? They got a really good driver. Larson obviously is a talented one," Busch said after the race.
Busch feels Larson has been impressive in all four races so far, despite having to come back and re-adjust after missing almost the entirety of the 2020 season.
On Sunday, Larson had some minor issues with tires on one occasion, but he showed no nerves at all and found his way back to the front. Busch said once Larson shot into the lead again, no other driver was capable of stopping the no. 5 car driver.
"He's done a fantastic job in the races he's had so far. He got held out there on tires one time today, was coming back towards me, then it kind of leveled out. We came in for tires the next time, and he just flat out shot to the front," Busch continued.
Big early boost for Larson's confidence
Getting a win so early in his comeback season is a massive boost to Larson's confidence with so many races left in the season before the playoffs arrive.
"There was no keeping up with him. Those guys have got it going on, have done a nice job. It was impressive to see. Congrats on him getting a win this early in the season, for him on his return," Busch concluded.
ADVERTISEMENT
Article continues below this ad
Busch himself has shown good pace so far this season. However, he has faced issues early in the races so far this season, restricting his chances to really compete for wins towards the end of the race.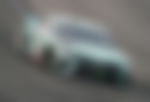 Meanwhile, the win comes at the perfect time for Larson, and he can approach the Bristol dirt race later this month with a lot more freedom.
ADVERTISEMENT
Article continues below this ad