When Denny Hamlin won at the Kansas Speedway, he was practically crowing to the high heavens. Normally, one would expect these emotions from a driver winning his first race, not his fifth.
However, Hamlin admitted that his car still lacked some speed and the Joe Gibbs Racing team has not enjoyed a good season.
"By our standards and Toyota's standards, it has been a slow start," revealed Joe Gibbs Racing team president Dave Alpern.
His comments come in spite of the fact that Hamlin is leading the series with five wins on the board. So far, Hamlin and Martin Truex Jr. notched up six wins between them, but Kyle Busch and Erik Jones are yet to open their account.
Alpern confessed that under normal circumstances, six wins is considered excellent in many books. However, the Joe Gibbs Racing team amassed 19 wins during the 2019 season.
All 19 wins were split between Hamlin, Truex, Busch, and Jones, with the first three entering the Championship 4. Things culminated in Busch seizing his second NASCAR Cup Series title and his second consecutive regular-season title.
ALSO READ- Denny Hamlin and Kevin Harvick Resume Battle for Cup Series Supremacy at New Hampshire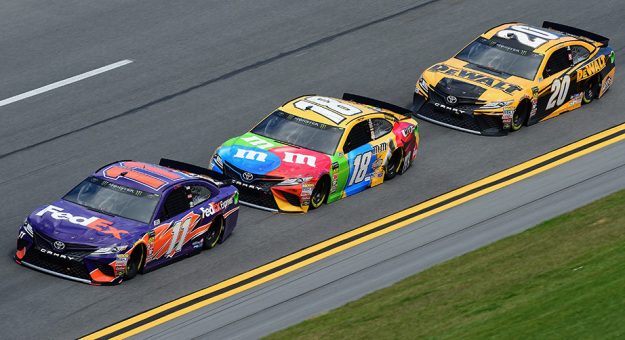 Is the Joe Gibbs Racing team exaggerating?
Truthfully, the statistics are not as disheartening as the team fears, since Hamlin has five wins to Truex's one. In addition to that, Hamlin, Truex, and Busch comfortably made it into the Top-10 in the point standings.
Admittedly, it is surprising that Kyle Busch has not grabbed a win this season. In fact, Busch snapped up a playoff point for the first time in Kansas last week.
It also appears that the absence of practice sessions is seriously hurting the reigning series champion.
Finally, Erik Jones lies 16th in the standings and outside the playoff berths, and Alpern used him as an example. The Team President stressed on the need for more consistency.
Furthermore, Alpern refused to use the COVID-19 pandemic as an excuse or an explanation behind the poor form of the Joe Gibbs Racing team.
"If it were isolated to us, I would say, gosh, that's definitely hurting us," he said. "But every team is having to adapt to showing up the racetrack and racing."
SOURCE- Racer.com