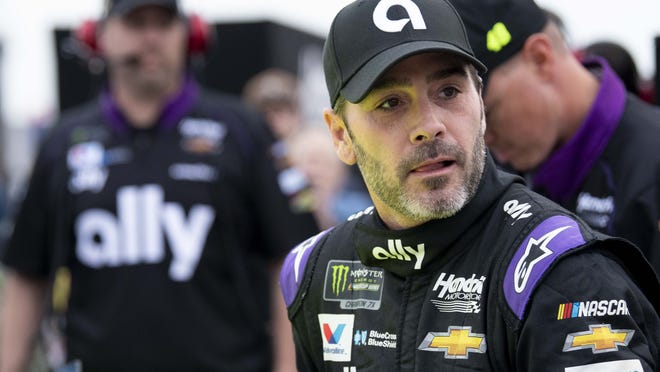 NASCAR driver Jimmie Johnson shares his experience of the first leg of the NASCAR's return races. He posted a short video showing the first glimpse of a post-pandemic NASCAR race weekend.
Today, he posted a video on his twitter showing a few clips from the Darlington and Charlotte races. The tweet said, "It's been an interesting first 4 races back"
It's been an interesting first 4 races back —> https://t.co/M55DTS24o0 pic.twitter.com/EwWWg82DsV

— Jimmie Johnson (@JimmieJohnson) May 30, 2020
The video starts with his first day back on track at Darlington. It shows how different the environment is after the new restrictions. After that, it shows him setting up his helmet for the race day and a short glimpse of his incident at 'The Real Heroes 400'. The video has him talking about his spin at Darlington. He said, "Gosh, What I wouldn't do to get that corner back, to do it over again"
Additionally, in the video, he talks about his disqualification in the Coca-Cola 600, and his Toyota 500 race.
The full video is available on his YouTube channel.
Jimmie Johnson had a spur of bad luck in the last few races
Johnson faced a series of bad luck in the last few weeks. First, he lost the win in the first NASCAR return race at Darlington. In the next race, Jimmie managed an 8th place finish in the rain-affected Toyota 500. He would have finished even higher if it wasn't for the rain.
Jimmie Johnson lost the pole to Kurt Busch by .009 seconds at NASCAR Coca-Cola 600. He did manage to finish the Charlotte race in second place. However, he was later disqualified after failing the after race inspection.
After that, he managed to finish at 11th place in a rain-delayed Alsco Uniforms 500. He started the race in 40th place and had an impressive run to finish the race in the top 15. Additionally, He failed to break his 'no-win' streak which crossed 105 races last week.
Read More: NASCAR Cup Series: Supermarket Heroes 500 Race Schedule Revealed