"It's F***ing Wet, Yo" – Kyle Busch, Denny Hamlin and More React to New Hampshire Race
Published 07/23/2021, 2:29 PM EDT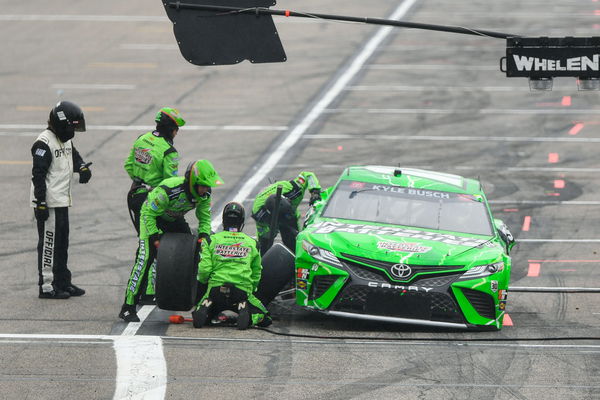 ---
---
The NASCAR Cup Series race at the New Hampshire Motor Speedway was a crazy one. The race had barely started when the heavens opened with a slight drizzle, and Kyle Busch was not too happy.
ADVERTISEMENT
Article continues below this ad
Even that slight bit of moisture was enough to send the cars skidding. Ahead of the race, many noted that there were alterations being made to Turn 1 and Turn 2.
A couple of minutes after the green flag, many drivers began complaining about the wet. Buch was particularly vocal about his displeasure and said, "It's f***ing wet, yo!"
ADVERTISEMENT
Article continues below this ad
Just as he said that, he lost the rear end and crashed into the wall, along with Martin Truex Jr. Denny Hamlin soon followed and nearly dragged Alex Bowman with him.
Busch was able to continue, but he tailgated the safety car a couple of times in his annoyance. Joey Logano then reported an issue with his throttle and was relieved when the red flag came out.
This is because it gave the Team Penske outfit time to try to sort out the issue. Unfortunately, that incurred a two-lap penalty for the #22 Team Penske driver.
What happened to Kyle Busch and the other drivers during the race?
Sometime after the restart, Bubba Wallace and Anthony Alfredo tangled, with the latter coming worse off. While all that was happening, Ryan Blaney made a move on Chase Elliott for the race lead. The #12 driver managed to hold on to it until the end of the first stage.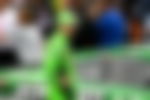 During Stage 2, the outgoing Brad Keselowski earned the ire of Quin Houff. The driver raged, "Now I know he sees retirement in the future. He's got to dump everybody else so that he doesn't suck."
ADVERTISEMENT
Article continues below this ad
Meanwhile, Elliott dive-bombed Almirola, something that the Stewart-Haas driver did not appreciate. In the end, Brad Keselowski won the second stage.
In the final dash for the chequered flag, Hamlin encountered some wheel nut issues. Back at the front, Aric Almirola and Brad Keselowski were going hammer and tongs, swapping the lead several times.
ADVERTISEMENT
Article continues below this ad
However, Keselowski soon faded away and Christopher Bell began to hunt down Almirola. In the end, the latter ran out of time, despite Austin Dillon making himself a nuisance for Almirola.