Jeff Gordon, Jimmie Johnson, Dale Earnhardt Jr Explain 'Special Feeling' of Winning Martinsville's Unique NASCAR Trophy
Published 04/10/2021, 2:10 PM EDT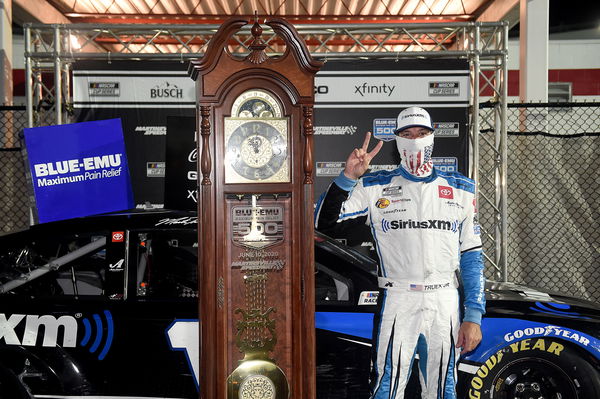 ---
---
The Martinsville Speedway race is quite a unique one, largely because of its trophy. As it turns out, drivers are awarded a life-size grandfather clock. Many drivers have had the honor of taking home the trophy, like Jeff Gordon, Jimmie Johnson, Dale Earnhardt Jr and Clint Bowyer. Bowyer even joked that he had to 'ratchet-strap' the trophy to his wife's car.
ADVERTISEMENT
Article continues below this ad
On a more serious note, Gordon, Johnson, and Earnhardt Jr spoke about winning at Martinsville. According to Gordon, when a driver goes to Victory Lane, he is quite floored at how 'cool' the trophy is. Johnson said, "Its a trophy you want to go after. In some places, you go and get a weird plastic thing, here it is something you really want to put in your house."
Meanwhile, Earnhardt Jr confessed that he put his trophy in a place where everyone could see it. Additionally, Gordon knows that that trophy is proof that drivers know what it took to earn it.
ADVERTISEMENT
Article continues below this ad
Who else besides Jimmie Johnson, Jeff Gordon and Dale Jr have won?
While Dale Jr has won it once, Jimmie Johnson and Jeff Gordon won it multiple times. It is also worth mentioning that when Bowyer joked about strapping it to his wife's car, it was his first Martinsville win. He confessed, "You know I make fun of these other drivers sometimes for having tears in victory lane, but I've got to admit that moment got to me,"
ADVERTISEMENT
Article continues below this ad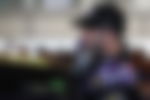 Speaking of the trophy itself, the grandfather clock has a rich history behind it. Martinsville Speedway founder H. Clay Earles first introduced it and it has become one of the most iconic NASCAR trophies. So, in 2018, Clint Bowyer got to take home this prestigious trophy.
It is worth mentioning that the latest recipients are Martin Truex Jr and reigning Cup Series champion, Chase Elliott. Now, the drivers will compete to bring home that iconic and stunning-looking trophy.
ADVERTISEMENT
Article continues below this ad