Jenson Button Reveals the "Unfair" List of Drivers He Would Stay Away From Amid NASCAR Debut
Published 03/10/2023, 6:07 PM EST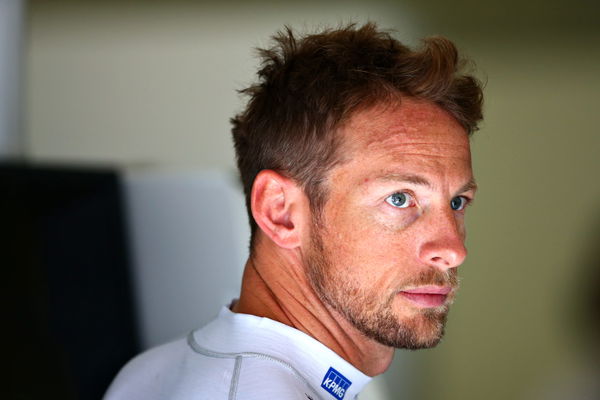 2009 Formula 1 champion, Jenson Button is all set to try his hand at stock car racing. A part of NASCAR's Garage 56 project alongside 7-time Cup Series champion Jimmie Johnson and former 24 Hours of Le Mans winner Mike Rockenfeller, Button will race three NASCAR Cup races this season.
According to reports, the former F1 driver will race at the Circuit of the Americas on March 26, followed by the Chicago Street Circuit on July 2 and the Indianapolis Motor Speedway on August 13. And as one would expect, Button can't wait to get behind his new, modified Chevrolet Camaro ZL1.
In his recent appearance on NASCAR Race Hub, Button shared some insights on his preparation for the upcoming races. Revealing that his learning process includes watching a lot of NASCAR races, Button explained that he is still getting accustomed to a roof over his head. This was when one of the hosts asked an "unfair question" to the veteran driver.
ADVERTISEMENT
Article continues below this ad
Jenson Button does not want to duel with a familiar face 
During the conversation, when the F1 driver was asked by Jamie McMurray to name the one driver he would want to stay away from, he lightheartedly complained, "That's a bit unfair (laughs)." However, he then continued to name his teammate at Garage 56, Jimmie Johnson.
Of course, who wouldn't want to steer clear of the seven-time Cup champion? But seeing the love and friendship between the two, it seems that Button does not actually have a real reason to steer clear of Johnson.
Who else has Button decided to steer clear from?
ADVERTISEMENT
Article continues below this ad
Although McMurray suggested that Button stay away from Ross Chastain after his last year's on-track encounters, Button said that he might love to be around him. However, after giving the question some more thought, he said, "Who I might wanna stay away from…I think Kimmy (Raikkonen). Jordan Taylor, he is my teammate in Garage 56, so yeah, him (laughs)."
However, the F1 champion further added, "No, I don't know. I am just looking forward to seeing all these guys on track. It reminds me of my karting days where the action's so close."
ADVERTISEMENT
Article continues below this ad
Apart from the Cup races, Button will join a legendary motorsport lineup at the famous 24-Hours of Le Mans. Celebrating the 100th anniversary of the iconic endurance racing series, Button will be driving the special Next-Gen Chevrolet Camaro ZL1 at Le Mans.
WATCH THIS STORY: Dale Earnhardt Jr Details What "Motorsports Are All About" as He Dreams of Jimmie Johnson's Le Mans Entry Having a Greater Impact on NASCAR
Edited By: Nischal Kandpal