"JGR Knows Who the Hack Is" – NASCAR Fans React After Spotting Denny Hamlin Detail on Kyle Busch's Car
Published 03/06/2022, 4:10 AM EST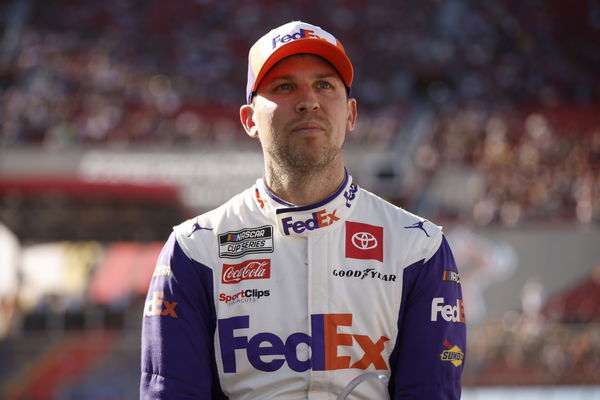 During the practice session at the Las Vegas Motor Speedway, Joe Gibbs Racing driver Kyle Busch suffered a flat rear left and slammed into the wall. This made sure not only was his practice over, but his qualifying as well.
However, while many worried about the participation of Busch in the main event on Sunday courtesy of supply issues and lack of cars, journalist Bob Pockrass reported that JGR had kept the incident of a wreck in mind and carried with them, a spare car.
The only problem was, the spare car seemed to belong to another JGR driver, Denny Hamlin.
ADVERTISEMENT
Article continues below this ad
In the picture that Pockrass tweeted, one can see "HAMLIN" written on the back of the spare Next Gen.
This amused many fans as they didn't miss a beat in poking fun at Denny Hamlin. It turned out to be for Kyle Busch but many fans suggested how Joe Gibbs Racing knew from the start who'd be needing the spare.
They thought Hamlin would wreck lmaoo

— KarKatTrolling #RipGodlak (Empress Rey) (@KarKatTrollin) March 5, 2022
They probably expected Hamlin to wreck first😂

— Andrew Madon (@andrew_madon3) March 5, 2022
Well that tells ya who they thought would need the back up🏁

— @racergirl19 (@needsspeedin19) March 5, 2022
Jgr knows who the hack is 😂

— Calvin 🇺🇦 (@CalWilsonTHFC) March 5, 2022
"What do you do?" Kyle Busch feels helpless with the new tires after wreck
After his practice session unexpectedly came to an end, Kyle Busch was asked whether he had any warning about the tire before it went flat. "No just went down," he said.
ADVERTISEMENT
Article continues below this ad
"I went low off of 2 one time but never heard anything that I hit anything or anything like that. So just going down the backstretch felt it start to go down and just happened so fast it was too late to slow down and do anything," he continued.
"Sucks for all the guys; that's a backup car for sure. So, I hate it for everybody at Joe Gibbs Racing and what we're trying to do here, parts crunch and everything else. But what do you do? When they don't hold air, then you can't make a corner."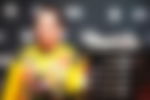 As a result of his wreck, and sitting out of the qualifying, Kyle Busch will start in 37th place on Sunday.
ADVERTISEMENT
Article continues below this ad