Joey Logano Reveals How He Celebrated With His 'Gladiator Sword' Trophy After NASCAR Bristol Dirt Win
Published 04/04/2021, 7:00 AM EDT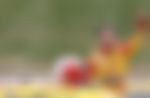 ---
---
When Joey Logano won the historic Bristol dirt race in the NASCAR Cup Series, he did not just win the bragging rights for the race. He also received one of the more unique trophies around in NASCAR – the Gladiator Sword that winners at Bristol Motor Speedway are awarded.
ADVERTISEMENT
Article continues below this ad
It's a very interesting trophy to win, and Logano was over the moon to earn another one of those, this time on a dirt track. Speaking on a podcast with fellow Cup driver Corey LaJoie, Logano explained what he does with the gladiator swords.
While it is exciting to collect more and more such trophies, for Logano the most important thing is to keep the swords away from his three-year-old and one-year-old children.
ADVERTISEMENT
Article continues below this ad
"The first thing you do is you keep 'em away from your kids — that's the first thing. I don't need Hudson running around with a sword," Logano said in response to LaJoie's question.
Thanks for the 🗡 @BMSupdates! 🏁 pic.twitter.com/jrlNRMFjvM

— Joey Logano (@joeylogano) March 31, 2021
Joey Logano had some fun with the Bristol 'Gladiator Sword' trophy
After taking care of that, it was time for Logano to have some fun of his own with the trophy. He said that he had been recording some videos of him swinging the sword around, just before the chat with LaJoie.
"So I was trimming the hedges. I cut through a Coca-Cola bottle. I was going after it with gusto. But it kind of feels good too just to chop stuff with a sword. It was neat, so that was cool," Logano said further.
While his older son, Hudson, did not get to celebrate with the trophy, Logano made sure he gave him and wife Brittany a chance to celebrate with him in Victory Lane. With the safety guidelines in place, drivers' families are not allowed in Victory Lane anymore after the race.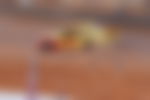 Logano expresses emotions of celebrating with family in Victory Lane
However, soon after everyone left and the venue was empty, Logano got the chance to celebrate on the track with his family.
"It's been a while since he's been at the race track for a win. And now that he knows what's going on, I said, 'We gotta get him inside the race track'," Logano said on the same.
"So later that night once everybody left, we went inside and walked the track together. And took some cool pictures on the dirt track at Bristol and just thought it was a cool moment," the No. 22 driver expressed.
ADVERTISEMENT
Article continues below this ad
A win is not complete without a family photo #ItsDirtBaby #ItsBristolBaby #NASCAR #FoodCityDirtRace pic.twitter.com/wSxwWVQliF

— BristolMotorSpeedway (@BMSupdates) March 30, 2021
Logano now has three Gladiator Swords in his collection. The 2018 Cup champion became the seventh different winner in seven races this season. While the Bristol win is special, Logano would not want to let go of his momentum as the season will keep getting competitive.
ADVERTISEMENT
Article continues below this ad