Joey Logano Ties Dale Earnhardt Jr in Illustrious List with latest NASCAR win at Kansas
Published 10/20/2020, 8:52 AM EDT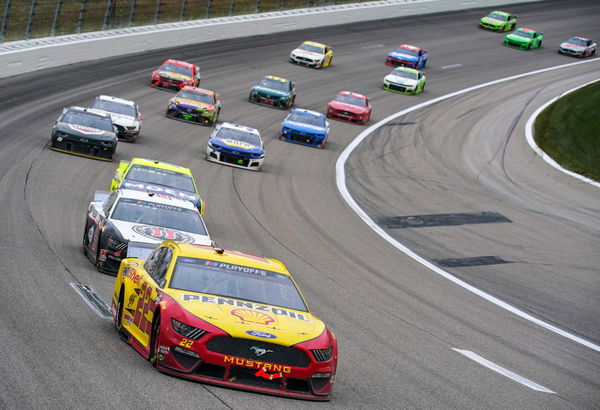 ---
---
On Sunday, Joey Logano sealed his berth in the next playoff round with a win at Kansas. In the process, he took his 26th win, tying him with the likes of NASCAR Hall of Famers Dale Earnhardt Jr and Fred Lorenzen in 31st.
ADVERTISEMENT
Article continues below this ad
Of course, nothing came easy for the driver, as he had to fend off a hard-charging Kevin Harvick. Harvick eventually ran out of laps and had to settle for 2nd. Admittedly, he had the faster car, but Joey Logano put up a very robust defense.
ADVERTISEMENT
Article continues below this ad
It also helped that the Team Penske pit crew was extremely alert and pulled off a lightning-fast pit stop. This culminated in Logano grabbing the lead and later getting the jump on Harvick. From there, there was no looking back, as the #4 driver tried in vain to attack for the lead and victory.
Some were not happy with the way Joey Logano won
Sadly, Logano's victory did not come without its criticisms. Some fans blamed the 2020 racing package for preventing an epic battle with Kevin Harvick. While they praised his on-track performance, they found fault with the cars' aerodynamic setup.
It is also worth noting that some fans tried to use it as an effort to diminish Logano's achievement. Whatever their feelings about the win, it does not take away the fact that this win clinched a berth in the championship four.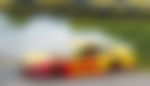 However, Kevin Harvick sang praises about Logano's driving style and defensive capabilities. He insisted that Logano is adept at close-quarter racing. However, not many drivers are fans of that thing.
ADVERTISEMENT
Article continues below this ad
Speaking of Harvick, he was the race leader for a fairly long time, 85 laps, to be precise. When the caution period ended, Joey Logano took capital advantage and lead the race when it counted. Although Kevin Harvick did his best to hunt him down, Logano held firm and took the checkered flag.
Now, the onus is on Kevin Harvick and the six other playoff drivers to snatch the remaining three spots in the finals. They will have the opportunity to do so in Texas and Martinsville.
ADVERTISEMENT
Article continues below this ad