Johnny Depp or Jeff Gordon: Did the Hendrick Motorsports Legend Lose More in His Divorce Settlement to Brooke Sealey Than 'The Pirates of the Caribbean' Star to Amber Heard?
Published 05/04/2022, 10:16 AM EDT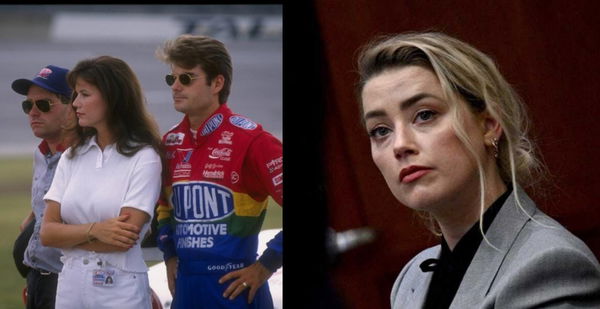 It's impossible that people with an internet connection haven't heard about Johnny Depp and Amber Heard's fiasco. And if you're a movie buff, the Depp-Heard legal battle must have crossed your phone at least once in the last few years. However, being a NASCAR fan have you ever heard about Jeff Gordon and Brooke Gordon?
A NASCAR legend had to pay more than twice what Johnny had to pay. Yes, Jeff Gordon paid a staggering $15.3 million to his ex-wife Brooke when the couple divorced in 2003. After seven years of marriage, Jeff's ex-wife filed a divorce case citing marital discord.
ADVERTISEMENT
Article continues below this ad
Jeff's ex-wife received the amount after the sale of two properties including an oceanfront home in Highland beach. However, the other sold property is unknown to the media. It is believed that the amount was paid off after the sale of boats, airplane, and cars.
As of 2002, the current Hendrick Motorsports Vice Chairman had a net worth of around $48.8 million with $18 million earned in 2001 alone. Despite such submission to the court, Brooke argued that Jeff was worth more than he filed. However, how much was he actually worth at that time is still unknown.
As per the law in Florida, when a couple divorces, they need to have an equal share of the asset amassed during the marriage. However, Jeff argued that he risked his life to collect the amount. This led to the court ultimately settling the amount to $15.3 million.
Where does Johnny Depp stand as compared to Jeff Gordon?
ADVERTISEMENT
Article continues below this ad
Johnny had to pay two times less than what Hendrick Motorsports legend paid to his wife. The couple split up when Amber filed for divorce in 2016.
WATCH THIS STORY: Hendrick Motorsports Find Themselves Completing The Mexican Standoff Between Roush Fenway Keselowski Racing And NASCAR
ADVERTISEMENT
Article continues below this ad
At the time of the divorce, it was believed that Depp's net worth was well over 18-times more than Amber's. So set it in, Amber sought $50,000 per month as spousal support. However, after a series of hearings Depp had to pay off $7 million in 2017.