Justin Allgaier Calls Ross Chastain "Pretty Two-Faced" After Wreck in NASCAR Xfinity Series Race at Texas
Published 10/25/2020, 11:53 AM EDT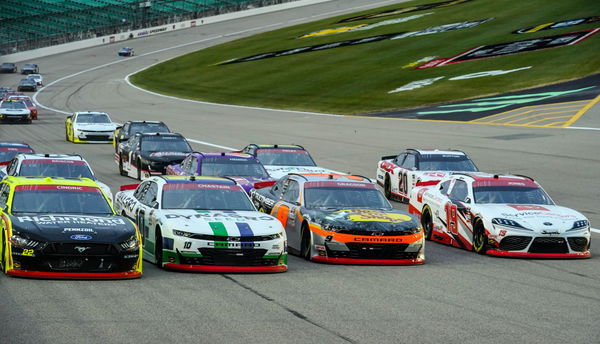 ---
---
NASCAR Xfinity Series saw the action shift to the Texas Motor Speedway for the O'Reilly Auto Parts 300 race. A race that saw drama in the end when Harrison Burton edged past Anthony Alfredo to seal the victory.
ADVERTISEMENT
Article continues below this ad
However, there was some more drama that unfolded during a restart with 26 laps to go. Justin Allgaier, who had restarted on the inside half of the front row with a lead off of Turn 2, happened to tap Ross Chastain while coming up the tracks.
Both cars suffered a major loss in pace. What's more, an additional nudge at Allgaier's #7 Chevrolet pushed him into Brandon Jones, who went on to hit Chastain's car, which ended with a slide.
ADVERTISEMENT
Article continues below this ad
Allgaier was clearly unhappy and in the analysis of what had transpired, he said, "Cindric gave me a great push on the restart and was doing a great job to keep me down into Turn 1."
"It's a shame not only for our team but everybody else. Ross is pretty two-faced and says a lot of things outside the race car. And drives like this on the racetrack a lot of the times. It's pretty disappointing," he added.
However, Chastain, in his response, was a little subdued compared to Allgaier and agreed that it was his fault. He mentioned that they had a potentially race-winning car and was dejected with the fact that he couldn't do justice to it.
"It's my fault. We brought a race-winning racecar to the track today and driver error. I made too many mistakes there," he said.
Chastain finished 16th and Allgaier, whose race ended there, finished 26th. However, Allgaier holds one of the 3 transfer spots. He sits 8 points above the cutline; Chastain, on the other hand, is 15 points below the cutline.
NASCAR Xfinity Series- Allgaier and Chastain clashes
The crash earlier in the day is not the only crash that Allgaier and Chastain have been involved in. The Zippo 200 race from last year at the Watkins Glen International circuit comes to mind.
The race saw Chastain running into Allgaier, who set the records straight and wrecked him. "Ross and I have had a rocky relationship," said Allgaier post-race.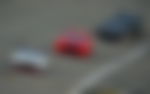 The commotion around the crash was Allgaier feeling that he was wrecked purposely. He was disgusted with the fact that someone like Chastain had been racing like that week after week.
ADVERTISEMENT
Article continues below this ad
Justin Allgaier, who has 13 career Xfinity Series wins, will have to go into Martinsville with a cool head hoping for a turnaround. The race is wide open with 3 spots still up for grabs.
Allgaier who has enough experience will hope to avoid any last-minute mishaps that could cost him his championship chances at Phoenix.
ADVERTISEMENT
Article continues below this ad