Kevin Harvick and Denny Hamlin Aim to Match NASCAR Legends With Unique Feat in Playoffs
Published 09/11/2020, 10:00 AM EDT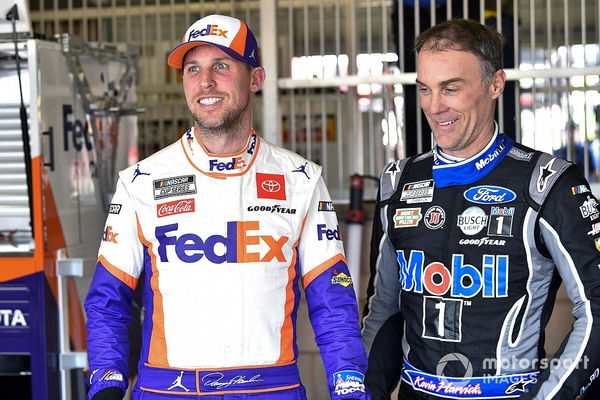 ---
---
Kevin Harvick and Denny Hamlin are in a league of their own this NASCAR season. With eight and six wins respectively, much of the talk around the championship contenders is around Harvick and Hamlin. While Harvick raised his billing with a win in the opening playoffs race at Darlington, Hanlin has proved this season he is never far behind.
ADVERTISEMENT
Article continues below this ad
While the focus is on their championship bids, both Kevin Harvick and Denny Hamlin have a shot at another big feat this season. That of winning 10 races in a single season. What will make this achievement even more special, is how rare it actually is.
If either of Harvick or Hamlin goes on to win 10 races this season, he will be the first driver in 13 years to do so. Jimmie Johnson was the last to do so in 2007. Moreover, it will be just the third time in almost 25 years that a driver would win 10 races in a season. Jeff Gordon won 10 races in 1998. He also won 10 each in 1996 and 1997.
ADVERTISEMENT
Article continues below this ad
Kevin Harvick ever so close to rare feat
You would think that both drivers are focused solely on winning the trophy at Pheonix. However, the fact that they have a shot at the feat is not lost on them as well as their Crew Chiefs.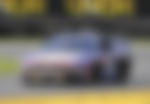 "In 2018, we were able to win eight races and the All‑Star Race. And that was a huge deal for us. That's one of those dream seasons, and of course, this one has been also," Rodney Childers, Harvick's Crew Chief said.
ADVERTISEMENT
Article continues below this ad
Record not out of reach for Denny Hamlin as well
Hamlin's Crew Chief Chris Gabehart also threw light on the magnitude of the achievement. "You look at the names of the guys on that list. Not only was it done a long time ago, it was done in kind of a different era where the rule book is concerned. It's an elite list of guys," Gabehart expressed.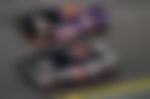 ADVERTISEMENT
Article continues below this ad
Gabehart also rued the missed opportunities to win at Bristol and Indianapolis earlier this year. Hamlin lost the lead at Bristol with just 12 laps to go. He also wrecked at Indianapolis while leading with just eight laps to go.
The opportunity to win 10 races this season is certainly bigger for Harvick. But with nine races to go, you cannot count Hamlin out as well. This adds another dimension to their epic rivalry this season.