Kevin Harvick Declares Fellow NASCAR Champ Kyle Busch as the Best Cup Series Driver Currently
Published 05/01/2021, 9:15 AM EDT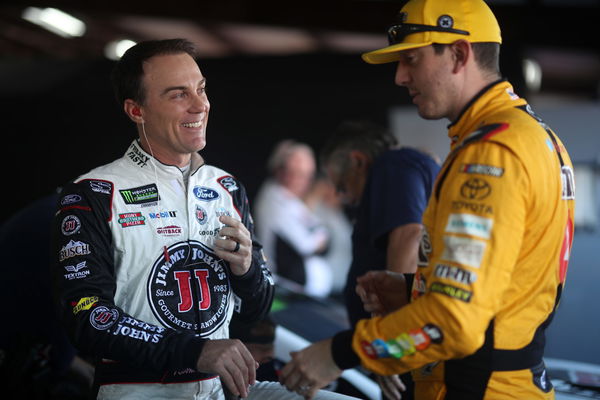 ---
---
Kevin Harvick and Kyle Busch have been Cup series rivals and competitors for a long-time now. They have been among the biggest competitors for the title year after year, but Harvick recently reserved the highest praise for Busch.
ADVERTISEMENT
Article continues below this ad
The Stewart-Haas Racing superstar believes Busch is currently the best NASCAR Cup Series driver. He was asked to make his picks for the best Cup drivers on the current grid, and he had no hesitation in tagging Busch as 'the best.'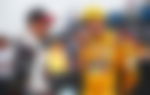 Harvick also expressed that Kyle Larson has impressed him a lot and believes he will win a lot of races. However, he has been observing Busch for a long time now and believes not many possess the skills he does behind the wheel of a stock car.
ADVERTISEMENT
Article continues below this ad
Kevin Harvick's huge level of praise for Kyle Busch
"I think Kyle Busch is the best driver. Just because of the fact that I've seen a number of things that he's done in the race car," Harvick said recently on a podcast.
Harvick also opined that Busch is sometimes his own enemy, and that is what often stops him from winning. However, considering all aspects, he feels the Joe Gibbs Racing superstar is second to none.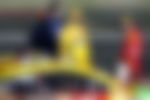 "I think sometimes Kyle is Kyle's worst enemy. But Kyle is, in my opinion, the best driver in the Cup Series from an all-round aspect," Harvick said further.
When Busch denied Harvick twice in the 'Championship 4'
Harvick and Busch were both part of the 2015 Championship 4 race. In fact, Busch held off Harvick after a late restart to win the race as well as his first NASCAR Cup Series title.
ADVERTISEMENT
Article continues below this ad
Then, once again, Harvick and Busch were part of the championship finale in 2019. And again, Busch showed his class on the day it mattered most and held off Harvick and the others to win his second NASCAR Cup Series title.
Harvick, the 2014 Cup champ, and Busch are both not enjoying the best of fortunes currently. Harvick dominated the 2020 season but has since fallen off his peak. He hasn't been able to compete for wins this season.
Meanwhile, Busch has won just one Cup race since that 2019 finale, which came last season at Texas. However, Busch still possesses the quality to get it done, enough to make Harvick believe he is still the best Cup driver around.
ADVERTISEMENT
Article continues below this ad