Kevin Harvick Surpasses NASCAR Hall of Famer on the List of an Important All-Time Record
Published 11/25/2020, 12:28 AM EST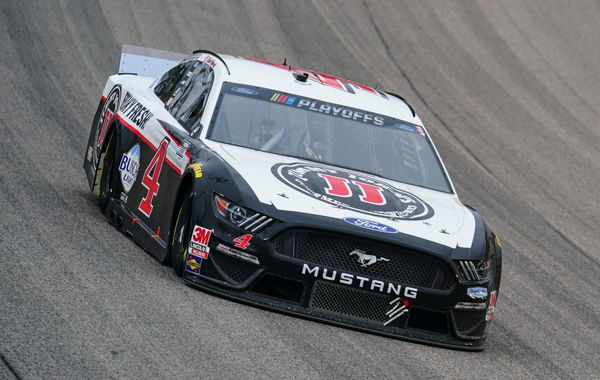 ---
---
Kevin Harvick has been racing in NASCAR since 2001 and is showing no signs of slowing down. Ever since his debut race in North Carolina, he has been going strong. Now, it appears that Harvick is steadily progressing in terms of one particular record.
ADVERTISEMENT
Article continues below this ad
As it turns out, the 44-year-old has overtaken NASCAR Hall of Famer Rusty Wallace in the lap counter. In other words, Harvick's 205,104 laps are enough to surpass the 1989 champion. Of course, Harvick still has a long way to go to actually overhaul the record, which is 307,836, courtesy Richard Petty.
ADVERTISEMENT
Article continues below this ad
Trying to catch up to nearly 100,000+ laps will be a long and arduous task. It would also require an incredible level of consistency from Harvick. Additionally, he needs to keep his nose clean and the Stewart-Haas Racing team needs a reliable car.
Can Kevin Harvick overtake the all-time record?
ADVERTISEMENT
Article continues below this ad
In the 2020 season, Harvick enjoyed a dream run, winning nine races. However, he will have to seriously dig deep in order to achieve what he missed out on this year. Of course, in terms of this record, Harvick doesn't really need to win any race. As the saying goes, to finish first, first you have to finish.
Truthfully, mechanical issues are rare in NASCAR, but still a possibility. One thing is for sure, it will take Kevin Harvick a few years of consistent race finishes to reach Richard Petty's record. It is true that records are meant to be broken, but Petty's record may just be a little out of reach.
Obviously, Kevin Harvick won't be focusing on any records but has his eyes on a bigger prize. Despite a dream run in the 2020 season, the 44-year-old agonizingly missed out on the Championship 4. Even nine wins, and being the favorite for the title, were not enough to guarantee victory.
ADVERTISEMENT
Article continues below this ad
WATCH: Kevin Harvick Celebrates as Son Keelan Wins Another Go-Kart Race