"Kids Being Kids" – Kyle Busch Has the Fans in Splits After His Touchy Way of Celebrating Martin Truex Jr.'s Win at L.A Coliseum
Published 02/07/2023, 5:30 AM EST

Follow Us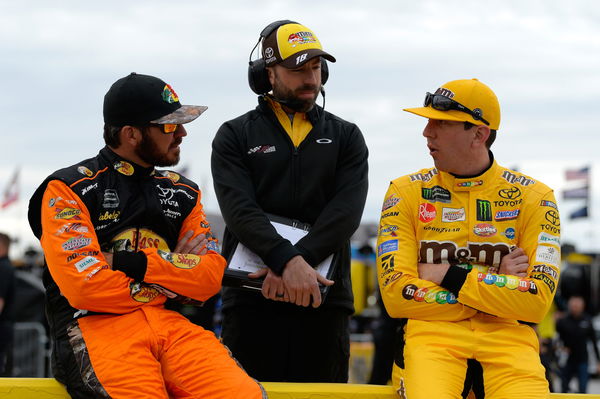 Martin Truex Jr. took the big win in the first race of 2023. But he got a bigger greeting from Kyle Busch, who went the extra mile to say hello to his little friends down there, too. And the fans just couldn't hold their laughter back.
The biggest story ever since Busch made his big switch to RCR has been just how happy he looks. Especially at the Los Angeles Coliseum, the fans were pointing out how relaxed he looked, and that really reflected because he overcame even being spun out. But the funniest story came after the race when he went to greet the race winner after the race ended.
ADVERTISEMENT
Article continues below this ad
Busch took the podium, the first time NASCAR tried a podium celebration. Yet, the star of the show was undoubtedly Truex Jr. who was standing at the top in the first race this season. The two-time champ used his hands to show really how happy he was for his former teammate at JGR.
And the fans just couldn't stop laughing.
I about died 🤣 glad to see the chaos didn't take away friendships!

— weslyn fugate 🏁 ❤️ (@weslynfugate) February 6, 2023
That's hilarious…kids being kids

— THE Ⓜ️UFFLE®️ 🅱️E🅰️®️ℹ️🆖️ (pat.pending)™️ (@eari_m) February 6, 2023
This has to be up there in one of NASCAR's funniest moments. It's great to see Busch still being friends with his former teammates at JGR.
But beyond some happy moments, he wasn't too thrilled by the race this time.
Kyle Busch feels L.A Coliseum involved disrespect from everybody
ADVERTISEMENT
Article continues below this ad
NASCAR held the race at the Coliseum after a very successful 2022 race. But Busch wasn't a fan of the show this year because "Last year's show I felt like was relatively clean and good racing."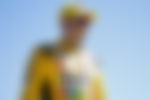 He further talked to Motorsport.com about how different last year was to this Sunday's race, "Some bumping, some banging, but we could run long stretches of green-flag action, where today was I would call it a disaster with the disrespect from everybody of just driving through each other and not just letting everything kind of work its way out,"
ADVERTISEMENT
Article continues below this ad
Even though he got a decent result, it seems like he just wasn't so thrilled by the track itself. What did you think about this year's clash?
Edited By: Akash Pandhare