Kyle Busch Bemoans Hendrick Motorsports Quartet's Dominance
Published 06/02/2021, 7:37 AM EDT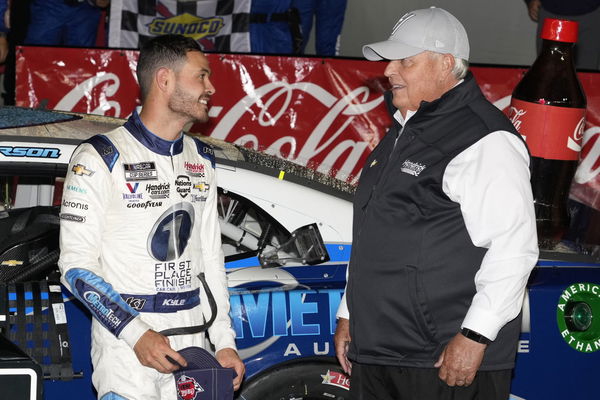 ---
---
Last weekend, the Coca-Cola 600 at the Charlotte Motor Speedway concluded with Kyle Larson winning. The Hendrick Motorsports team was so dominant that they all landed in the Top 5. Joe Gibbs Racing driver Kyle Busch stuck his car in third place and was the only one to break the four Hendrick cars.
ADVERTISEMENT
Article continues below this ad
This race was special because it fell on Memorial Day weekend. Naturally, many drivers were eager to pay their respects to the armed forces. There were even several army personnel who were in attendance at the Charlotte Motor Speedway.
ADVERTISEMENT
Article continues below this ad
Coming to the actual race itself, there was plenty of excitement. The first man to hit trouble was Ross Chastain, who picked up some steering lock. Meanwhile, Ryan Blaney complained of a loose wheel. Kyle Busch was pretty pleased with his own pace as he was the fastest man on the track for the moment. However, the opposite was true for teammate Denny Hamlin.
How did Hendrick Motorsports perform compared to the others?
Admittedly, Busch's glee did not last very long as he could not hold a proper line. Meanwhile, Daniel Suarez slowed down with a flat tyre. However, out at the front, Kyle Larson was simply rabbiting away from the pack. At the end of the first stage, he led an all-Hendrick Motorsports Top 3, ahead of Chase Elliott and William Byron.
ADVERTISEMENT
Article continues below this ad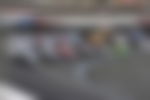 During stage two, there was a massive Hendrick tussle that ended with Elliott taking the lead. Back in the midfield, several cars had to take avoiding action because Kurt Busch developed an oil pressure issue. In the end, he was forced to retire, while Larson took the lead back during the pit stop phase.
When Stage Three got underway, Christopher Bell brushed the wall and got a puncture. Meanwhile, Kevin Harvick's miserable season continued as he had a loose wheel. There was also a close call involving James Davison who managed to catch his car and stop it from spinning. In the end, nobody could stop Kyle Larson, though Kyle Busch did a fine job to spoil the Hendrick party.
ADVERTISEMENT
Article continues below this ad