Kyle Busch Calls Out NASCAR for an Unfair Penalty
Published 06/14/2020, 5:20 AM EDT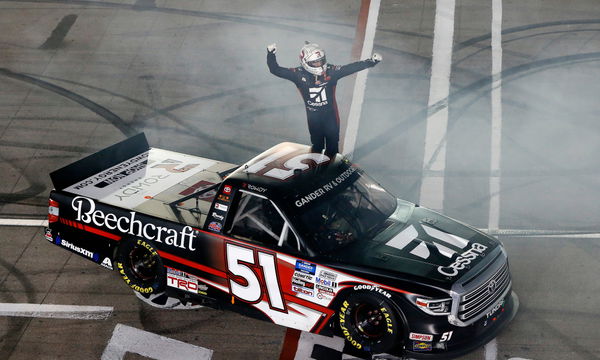 Yesterday, Kyle Busch took home his first Truck Series win after losing the long-running streak in Truck Series. However, it wasn't an easy race for the driver as he started from the back because of a penalty. Kyle's team was fined for a breach found in the pre-race inspection.
Originally, Busch was to start from the second spot. However, Kyle had to start from the bottom of the grid because of the penalty. Additionally, he served a 'pass-through penalty' in the Saturday night's Gander RV & Outdoors Truck Series race at Homestead-Miami.
Additionally, 10 team owner points will be deducted from Kyle Busch Motorsports. After that, Some other penalties can be expected in the coming races.
ADVERTISEMENT
Article continues below this ad
After the race, Kyle talked about his race and the 'unfair' penalty in an interview with Bob Pockrass of Fox NASCAR. He revealed that rules were changed in the of season and because of the lockdown, there wasn't any clarity.
ADVERTISEMENT
Article continues below this ad
Kyle Busch talked about the 'unfair' penalty
Kyle said, "I guess some rules were changed over the offseason and the truck we ran tonight I think we ran here at Homestead last year and they just put it off to the side, knowing I'd be in it in March and now it's June"
He added, "It never made its way to the fab shop for some updates or to have some bars cut out due to NASCAR changing the rules. We missed it, came down here with that bar in there, and I guess they wanted to prove a point."
ADVERTISEMENT
Article continues below this ad
Kyle said that NASCAR gave a harsher penalty to him just to prove a point. He said, "So we had a big penalty, bigger probably than there would have been if there was another driver in the truck, so we'll take it and move on. We kicked everybody's ass anyway."