Kyle Busch Expects Future Racing Rivalries between His Son and Sons of Kevin Harvick, Kyle Larson and Clint Bowyer
Published 12/10/2020, 9:29 AM EST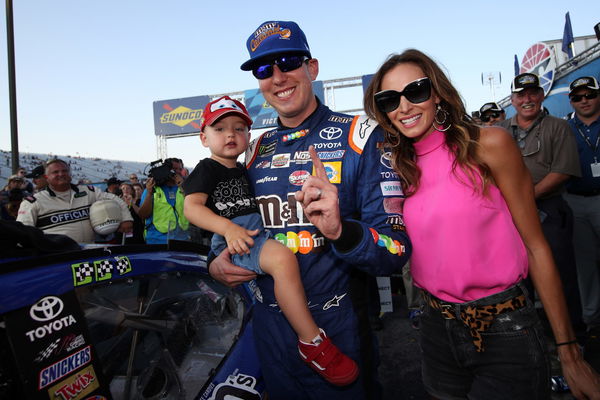 ---
---
Kyle Busch is already grooming the next generation racer from his family as his son, Brexton Busch, is running races in the junior or beginner class. At the same time, there are sons of other top NASCAR drivers who are also starting off their careers at a very young age, as their champion fathers aim to get them used to the sport very early.
ADVERTISEMENT
Article continues below this ad
Some of those big names are Kevin Harvick, Kyle Larson, and Clint Bowyer. Kyle Busch recently spoke about his son's racing career so far and about his potential rivalries in the future with the other star kids.
His son Brexton and Harvick's son Keelan, who is older, are currently racing in different age classes. However, Busch said they seem to be definitely facing each other in the future, along with Larson's and Bowyer's sons.
ADVERTISEMENT
Article continues below this ad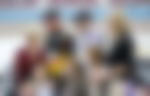 Kyle Busch is confident of the 'Next Gen' facing each other
"Right now, Brexton is only 5, Keelan is eight or nine. So they're in different classes, they're not quite running against each other yet," Busch said, speaking during an interview.
"It's gonna happen, you know. Owen Larson is out there, Cash Bowyer is gonna get out there next year. So there's gonna be a lot of these kids."
At the same time, he said that he's going to ask Brexton to not at all go easy on them whenever they face off. "I'm gonna tell Brexton, 'Don't take no s**t man, go get 'em'."
 

View this post on Instagram

 

He also expressed that he hopes Brexton listens to him sometime soon. He himself found it tough to listen to his father growing up, but hopes Brexton listens to him and his words of advice.
"I hope one of these days he listens to me though. When I was growing up, I had a hard time listening to my dad. I didn't think he was very smart or didn't know what he was talking about. I'm sure Brexton looks at me in the exact same eyes. But you never know until we get a little older," the younger of the Busch brothers in NASCAR, said.
When Brexton Busch and Cash Bowyer raced each other
ADVERTISEMENT
Article continues below this ad
Brexton and Cash Bowyer are already good friends off the track. The two young guns even faced each other a few weeks ago as they participated in the same race. Both Kyle Busch and Clint Bowyer were present on the occasion and helped their kids navigate the challenges of race day.
Meanwhile, even Harvick had recently shared a video of his son Keelan winning a race. It will be very interesting to see how the kids of some of NASCAR's best drivers today fare as they progress in their careers.
ADVERTISEMENT
Article continues below this ad
MORE – WATCH: Kyle Busch's Son Brexton and Clint Bowyer's Son Cash Reignite the Busch-Bowyer Racing Rivalry