Kyle Busch Languishes in Ninth After Copping Two Penalties at Richmond
Published 09/13/2021, 9:06 AM EDT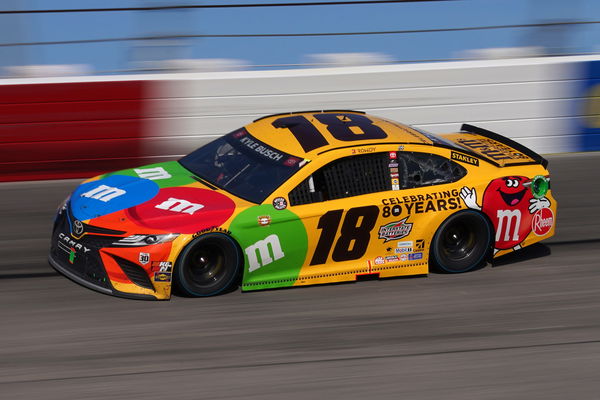 ---
---
Earlier this weekend, the NASCAR Cup Series race at the Richmond Raceway concluded, with Martin Truex Jr leading a Joe Gibbs Racing 1-2-3 ahead of Denny Hamlin and Christopher Bell. Meanwhile, their remaining teammate, Kyle Busch, could only muster ninth place. This was a little surprising, considering he had one of the best, if not the best, car on the track.
ADVERTISEMENT
Article continues below this ad
Later on, it transpired that the #18 driver copped two untimely penalties. In all honesty, Busch can be forgiven for his final position because of the transgressions. According to reports, the first penalty came on lap 30 during the competition caution. Apparently, the Las Vegas native got hauled up for an "equipment interference" violation.
To be precise, the team got into trouble during the pit stop phase when a stray tire rolled into Justin Haley's pit box. Naturally, this interfered with Haley's pit stop. NASCAR officials clearly did not appreciate the pit lane bungle and demoted Busch to the rear for the restart.
ADVERTISEMENT
Article continues below this ad
What did Kyle Busch do from that point onwards?
ADVERTISEMENT
Article continues below this ad
Of course, the two-time Cup Series champion opted to not dwell on the penalty and its potential unfairness. Instead, he elected to just put his head down and charge up the order. It worked like a charm, as he finished 14th by the end of the first stage. In Stage 2, the comeback was on, as Busch fought his way up to second-place and scored nine points.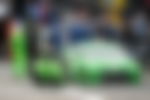 Stage 3 turned into the Joe Gibbs Racing show, as all four cars ran in the top-4 for most of the third stage. On a more personal level, Kyle Busch even inherited the lead for a spell. Sadly, it all came crashing down when he incurred another penalty, this time for speeding on his final pitstop.
ADVERTISEMENT
Article continues below this ad
The good news was that the punishment was just a mere pass-through penalty. To make matters even better, he rejoined in the Top 10. In the end, he moved up one more position to finish 9th. With that, Busch picked up 37 points and strengthened his chances with 10th in the playoff standings.