Kyle Busch Reacts to 60th NASCAR Truck Series Race Win After Dominating Final Stage at Atlanta
Published 03/21/2021, 1:13 PM EDT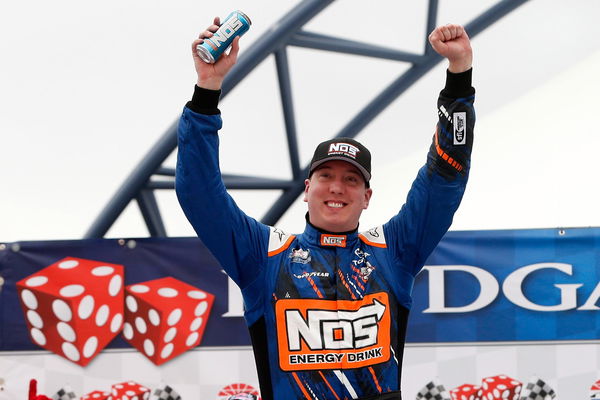 ---
---
On Saturday evening, Kyle Busch romped to a dominant Truck victory at Atlanta. In the process, he wrapped up his 60th Truck win and gave himself a confidence boost ahead of the Cup race. Behind him on the track were Austin Hill and Busch's teammate, John Hunter Nemechek.
ADVERTISEMENT
Article continues below this ad
In the last 30 laps, Busch created a massive gap to the rest of the pack. In the end, he finished more than 4 seconds ahead of the field in a truly dominant display.
Speaking to Fox NASCAR, he said, "Its just a great opportunity to race. Great stuff with KBM and Toyota. It's always cool to get back to Victory Lane.
ADVERTISEMENT
Article continues below this ad
"Coach always says, you got to have good people to have success. It's just a matter of evolving, the sport's ever-changing. Six months from now, the setups will be different again."
Kyle Busch also praised his teammate, John Hunter Nemechek. He declared that it was great to see both KBM cars in the top positions. This result is hugely important for Nemechek, especially since he is in a championship battle. Busch even spoke about his son Brexton, who will be racing on Sunday in the Beginner Box Series.
Kyle Busch needed this win ahead of his Cup race
ADVERTISEMENT
Article continues below this ad
So far in the 2021 NASCAR Cup season, Busch is yet to reach Victory Lane. However, this Truck Series win will do him a world of good, especially in the confidence department. Up until now, the Joe Gibbs Racing driver has often missed out on wins or had poor runs in 2021.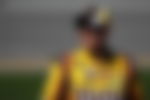 However, if he can reach the winners circle this year, it could catapult him back into championship contention. Additionally, he will move one step closer to holding the record for the longest-running streak of at least one win in consecutive seasons.
ADVERTISEMENT
Article continues below this ad
Currently, he is two shy from the legendary Richard Petty on 18 seasons. Of course, the potential Atlanta win will not just fall into his lap, he will have to work for it.