Kyle Busch Set for a "Revenge Tour" After "Two-Faced, A**hole" Joey Logano Revives Bitter NASCAR Rivalry
Published 02/07/2023, 4:00 AM EST

Follow Us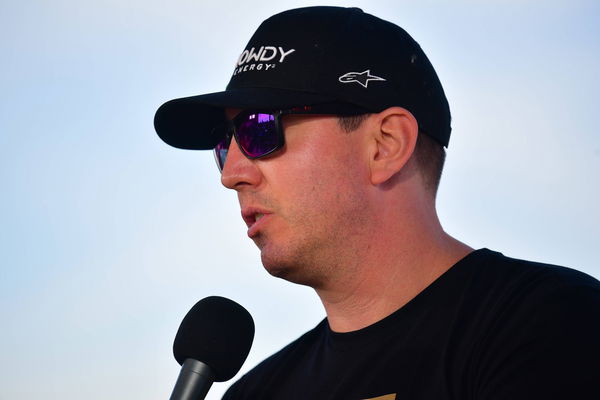 Multiple on-track misadventures marked the climax of Sunday's exhibition race at the Coliseum. The 150-lap main event was littered with 16 caution flags, most of which involved two or more vehicles. Midway through the competition, tensions rose as Kyle Busch clashed with the 2022 champion–Joey Logano. In the aftermath, Busch found himself facing the wrong way on the track. That put him in a sour mood. Later on, during an interview, Rowdy made his feelings clear about Logano.
Busch mentioned, "So I definitely am behind on that young buck. So, you know, one of the days I need to start getting back on the horse and sh*t grabbing it by the horns, I guess you'd say but you know. It's really unfortunate to be raced by guys that are so two-faced. You know we were in the TV booth earlier in the night together and when we were all done with that."
ADVERTISEMENT
Article continues below this ad
"He was like, hey, man good luck tonight. I'm like, okay, great, thank ya, whatever. And then low and behold, there you go. He wrecks me. So, don't even talk to me if you're going to be that kind of a**hole on the racetrack."
Fans react to Kyle Busch and his fresh rivalry
NASCAR racing is not just about speed and precision, it's also about drama and rivalry. Feuds are an integral part of the sport, adding an extra layer of excitement to every race. They bring a human element to the competition, giving fans a story to follow and invest in. Naturally, when fans saw Kyle Busch spring back up into an all-out feud after an exhibition race, they were all in for the drama that lay ahead. Some of the highlighted how Busch was out on a revenge tour this season.
KB on the revenge tour, inject this into my veins

— Joe Benoit (@BostonBlueMoon) February 6, 2023
From what I seen, Joey came in too hot. It didn't look intentional. Unfortunately, it was Kyle that he hit. But everybody was hitting everybody out there.

— 🇨🇦kevkat🇨🇦 (@kevkat89) February 6, 2023
Kyle Busch looking to star in remake of Mean Girls.

— Brandon Tramper (@Tramper21) February 7, 2023
Kyle Busch will gain a lot of fans this year

— Jrrmyy (@AllNelson44) February 6, 2023
ADVERTISEMENT
Article continues below this ad
ADVERTISEMENT
Article continues below this ad
Watch This Story: Outpour of Support Almost Reduces Kyle Busch's Wife Samantha to Tears Amid Major Health Scare
Rivalries like this are a crucial part of what makes NASCAR racing so thrilling and unpredictable, and they ensure that every race is a new adventure filled with drama, excitement, and adrenaline. Now all that is left to do is wait and watch what's more in store for this season. What else would Rowdy do? Would he take his revenge on Logano at Daytona? or Bristol? This season is sure to be a spectacle for the fans.
Edited By: Akash Pandhare