Kyle Larson's NASCAR Crew Chief Cliff Daniels Reveals Major Lessons from Jimmie Johnson-Chad Knaus Era
Published 03/09/2021, 10:00 AM EST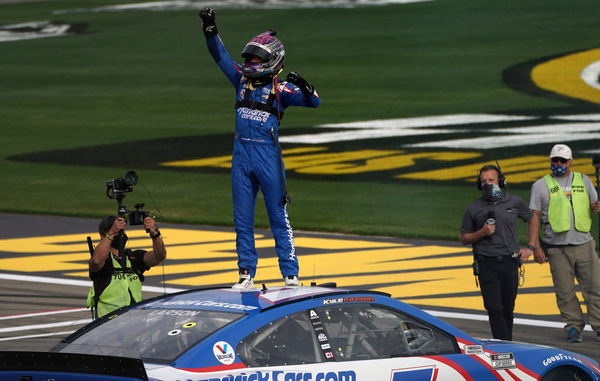 ---
---
Kyle Larson and crew chief Cliff Daniels won their first NASCAR Cup race with the No. 5 Hendrick Motorsports team, which would've come as a big relief for both. While Larson won his first race in quite some time, Daniels won his first-ever Cup Series race.
ADVERTISEMENT
Article continues below this ad
The top crew chief had a tough couple of seasons with Jimmie Johnson in the iconic No. 48 team, unable to win a race despite coming close. While they could not win there, Daniels learned a lot of useful lessons from one of the most successful driver-crew chief pairs – Johnson and Chad Knaus.
Daniels worked with the #48 team and took over from Knaus as Johnson's crew chief. Knaus and Johnson won seven NASCAR Cup titles together and won so many races in the process. Knaus has now assumed an even higher role at Hendrick, that of the historic NASCAR outfit's Competition Director.
ADVERTISEMENT
Article continues below this ad
Speaking after Sunday's win in Las Vegas, Daniels delved deep into how he applied the learnings from Johnson and Knaus as he and Larson inched closer towards victory.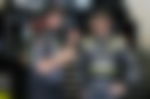 Daniels explains how he used his learnings from Jimmie Johnson, Chad Knaus
"Once we started getting towards the later part of the race, 20 to go, 15, 10, five, some valuable lessons I learned from Jimmie and Chad was to always be thinking ahead," Daniels said.
Larson was dominating the final stage of the race. However, in such situations, a late-race caution tends to completely change the dynamic. This is why drivers in the lead can never afford to be complacent until the checkered flag is waved.
While Larson was focusing on handling his car, Daniels worked 'thinking ahead', as he said, and came up with back-up plans if faced with a late restart.
"You're going to have mixed strategies, guys that are going to throw a Hail Mary, stay out on old tires, some guys will take two, some four. We worked up two different contingency plans if we needed them," Daniels explained.
Daniels and Kyle Larson were ready for any situation
ADVERTISEMENT
Article continues below this ad
"If the caution came out at any point, we already knew what our call was going to be, we knew which way we were going to go. That may sound a little bit idealistic, but we had to be thinking ahead in case we had been in that situation," he said further.
Daniels felt Larson was doing well on restarts throughout the race. He wanted his driver and his crew ready to make the most of a potentially similar situation late in the race.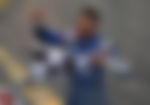 Daniels and his team's time with legends like Johnson and Knaus is finally paying dividends. To make things better, they have Larson, who is considered one of the most talented drivers in the sport.
ADVERTISEMENT
Article continues below this ad