Kyle Larson Pays Emotional Tribute to Rick Hendrick and Jeff Gordon at the NASCAR Annual Awards
Published 12/06/2021, 3:59 AM EST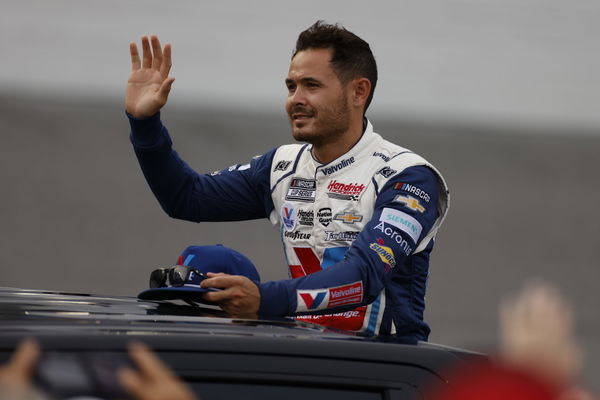 The last two years, 2020 and 2021, will probably be counted as the most important ones in the career of Kyle Larson. The 29-year-old was fired and hired as he lived through a zero-to-hero narrative where he was the protagonist. And two of the most important characters in his story were his team bosses, Rick Hendrick, and Jeff Gordon.
Larson made sure that he expressed his thankfulness and gratitude to the two men in front of the entire NASCAR community.
Speaking about Rick Hendrick, the Hendrick driver said, "I'm so grateful to have you in my life."
ADVERTISEMENT
Article continues below this ad
"This year, you've taught me so much about respect, and how to treat people. Thank you for that," he added.
He revealed the pressure he felt when Mr. H revealed the plans to give Larson the No.5 car, which his son also had. The champ recalled the first win he had with his new team, and how it made him feel.
Larson described, "I don't normally feel too much pressure, but I'll be honest – when I heard that you had faith in me, to bring back the No. 5 with your son's paint scheme, I was extremely nervous, but proud at the same time."
"The first win we got in Las Vegas is one of our most special wins we were able to get this year. As a father myself, hearing your voice and telling me how much it meant to you and Linda, brought on a lot of emotions."
Kyle Larson thanks Jeff Gordon
Larson thanked the former Hendrick driver, NASCAR legend and now a Hendrick executive, Jeff Gordon as he called him a role model. He rolled the years back as he mentioned the role of Gordon and his iconic rainbow paint scheme.
ADVERTISEMENT
Article continues below this ad
"Man, as a five-year-old dressing up for my first day at Kindergarten, head-to-toe in rainbow DuPont 24 gear, with a matching backpack, I probably didn't think I'd be sharing this stage with you 25 years later as my boss."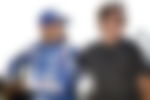 "You were a role model to so many dirt kids in California like myself. You're still that role model, and one of the most humble people I've ever met," Larson added.
ADVERTISEMENT
Article continues below this ad
This made Jeff Gordon a bit teary-eyed, as Larson ended by simply saying, "I'm so lucky to have you in my corner."