Kyle Larson Reveals How His Father's Viral 'Steering Wheel' Celebration Came to Be in Nashville
Published 12/02/2021, 11:53 PM EST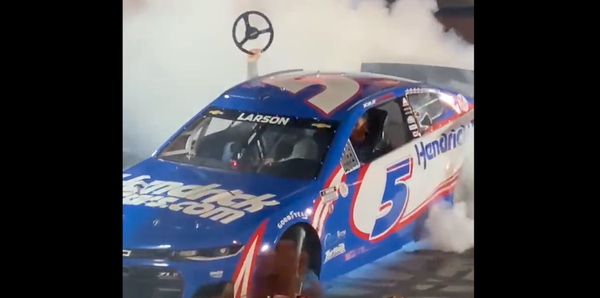 Earlier this week, many drivers turned up at Nashville for the Champions Week. Over there, Kyle Larson entertained the crowd with a few burnouts and donuts. Sometime during the event, Larson invited his father to ride with him in the #5 Hendrick Motorsports car. What made the ride even better was the fact that the two of them were swapping the steering wheel on occasion. At one particular burnout, Larson handed the wheel to his father, who brandished it in the air.
Speaking about the steering wheel switch, he said, "There's only one steering wheel in the car. We were passing it back and forth. I had to hit him because I needed it back, but then I couldn't see where I was. It was very smoky so either way, it was a lot of fun"
ADVERTISEMENT
Article continues below this ad
Aside from Larson, there were several other NASCAR drivers present. This included Truck Series champion Ben Rhodes and Xfinity champion Daniel Hemric. They were just three of the 16 drivers who were in attendance and who were also performing donuts for the crowd. Even drivers like Ty Gibbs was in the area and likely made an appearance.
What awaits Kyle Larson and the rest of the NASCAR drivers?
ADVERTISEMENT
Article continues below this ad
In 2022, the biggest thing that the drivers are looking forward to is the Next Gen car. This will be Larson's chance to draw first blood with the new cars. Since their presence wipes the slate clean for everyone, this is his and Hendrick Motorsports' best chance of being top dog once again.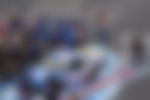 Of course, drivers like his teammate Chase Elliott will want to snatch that role for himself. Additionally, Kyle Larson will have to be wary of all of his other rivals. Furthermore, there is a possibility of new ones joining the fray. This includes Xfinity Series graduate, Austin Cindric, who takes over Brad Keselowski's Penske seat in 2022.
ADVERTISEMENT
Article continues below this ad
For now, Kyle Larson will be content with enjoying his maiden Cup Series title for a little while longer. Later on, he will be back on the grind and ready to prepare for the 2022 season and the prospect of defending his crown.