Kyle Larson Takes a Trip Down Memory Lane for His NASCAR Darlington Throwback Scheme With Hendrick Motorsports
Published 04/30/2021, 7:45 AM EDT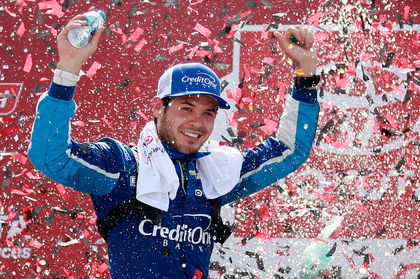 ---
---
The buzz for the NASCAR Darlington Throwback weekend is increasing by the day, and Kyle Larson has become the latest Cup Series superstar to reveal his throwback paint scheme.
ADVERTISEMENT
Article continues below this ad
Usually, drivers run paint schemes honoring a racing legend or a crew chief, or a big personality connected to NASCAR, during the Darlington weekend. However, Larson and the no. 5 Hendrick Motorsports team are doing something different for this year's throwback weekend.
Larson's no. 5 Chevy will sport a paint scheme bearing resemblance to one of the cars driven by Larson himself. The scheme will turn back time to Larson's childhood and is based on the first-ever race car driven by Larson.
ADVERTISEMENT
Article continues below this ad
Origin of the NASCAR Darlington scheme for Kyle Larson
Larson's Hendrickcars.com Chevy will sport a red and white combination for the May 9 race, similar to the 'Majik Motorsports' sprint car he drove when he began racing as a kid.
Majik Motorsports was Larson's family racing team, and his dad came up with the concept as well as the logo on Larson's first car. His Hendrick no. 5 car will sport the 'Hendrick cars' logo in a similar style to Majik Motorsports on Larson's no. 1 car from back then.
Larson was thrilled to incorporate the logo as well as the colors of his first-ever car, taking him down memory lane. He explained the origin of Majik, which stood for Mike, Andrea, Janet, including Kyle. Mike and Janet are the first names of Kyle's parents, and Andrea is his sister.
So the team's name was a perfect tribute to his family's legacy. The Majik name was later tweaked to Maj1k as Kyle drove the no. 1k car during the sprint car series back as a kid.
Larson is thrilled to revive his family racing team's logo
"How cool that I get to have it on my car… That was important for me, to get that logo on the car because that's our family team logo," Larson said in a video as he revealed the Darlington 2021 paint scheme.
He later tweeted, expressing his emotions on bringing the memory of his first car on the NASCAR racetrack. "This is pretty cool, thank you to everyone involved for making this happen," Larson said in the tweet.
ADVERTISEMENT
Article continues below this ad
In his six starts at Darlington for Chip Ganassi Racing, Larson had four top-10 finishes, including three top-3 finishes. Now in a stronger car, Larson will certainly aim to get that win.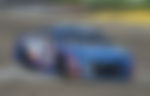 However, the in-form driver will first look the get the job done at Kansas this weekend.
ADVERTISEMENT
Article continues below this ad