"Learn From Your Mistakes" – Bubba Wallace Has a Sage Advice for His NASCAR Boss Denny Hamlin Amidst Kyle Larson Controversy
Published 05/04/2022, 11:03 AM CDT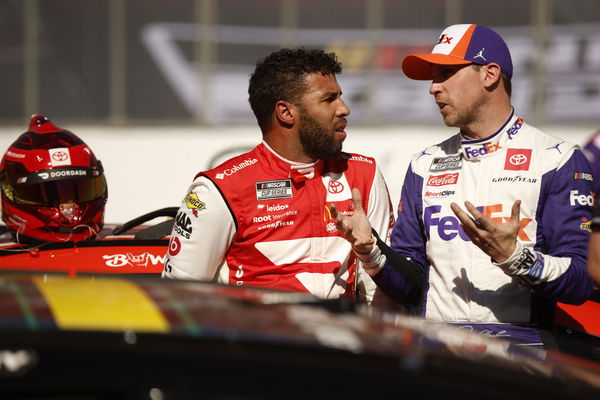 The race in Alabama is long over, but the controversy surrounding it is not. The Talladega Superspeedway race saw Kyle move right at the dying moments to trigger a crash, and that pulled Denny Hamlin into controversy. The Joe Gibbs Racing driver took a dig at Kyle Larson post-race and Bubba Wallace recently opened up on this.
Denny put up a controversial tweet from his official Twitter handle. The tweet received heavy criticism for being offensive in nature. The post depicted an Asian woman from the Family Guy cartoon driving a car 'roughly' and had Kyle Larson's name written on her chest.
ADVERTISEMENT
Article continues below this ad
As per facts, Kyle's mother Janet Larson is a Japanese-American woman. The NASCAR community didn't take the dig nicely and called out the Joe Gibbs Racing driver for his racial discrimination. After receiving backlash, Hamlin decided to delete the tweet and apologized. Kyle Larson appreciated the NASCAR's role in handling it and it was time to move on, he stated.
Bubba Wallace who drives for 23XI Racing, co-owned by Denny, has recently shared his opinion on the incident. Wallace Jr stated, "You've got to learn from your mistakes and move on from it. We can all learn from that and that's it. But NASCAR is continuing to make strides and we'll have minor setbacks, but we learn from this and make things better."
ADVERTISEMENT
Article continues below this ad
Bubba Wallace and controversies
Bubba knows what it likes to be on the receiving end of racially discriminant comments. Being the only black Cup Series driver in NASCAR currently, he's not far off from the experience. The 23XI Racing driver, however, called up for universal responsibility for incidents like this.
Talking about this Bubba conveyed, "When you're a person that has a platform, that has a following, that has a voice; you really have to be careful on what happens, and sometimes you cross the line and step over it. It's tough, but that's the life we live, and that's the invisible dotted line we sign."
ADVERTISEMENT
Article continues below this ad
WATCH THIS STORY: NASCAR Driver Reveals The 6 Million Obstacle In Kyle Busch Leaving Joe Gibbs Racing For Stewart Haas Racing
Bubba himself is indeed a controversial figure nevertheless. In November 2021, the 28-year-old driver put up a tweet that the NASCAR community did not take well. Moreover, a noose was found in his garage in the Talladega race back in 2020. However, the FBI, later on, cleared it as none of Bubba Wallace's fault.